A good vacuum cleaner is a valuable tool to have at home, while there are many reasonably price options available. Hence, these are commonly bulky, awkward to handle ergonomically, or simply not powerful enough to perform the job well. For those with a larger budget, it's a good thing that the premium segment is expanding. Recent product introductions from companies like Samsung and Philips are fiercely challenging Dyson. Which has long been one of the leading brands in the cordless vacuum cleaner market worldwide. Samsung Jet 90 Complete the best premium cordless vacuum cleaner you can purchase right now in India
Samsung recently introduced its Jet line of high-end cordless vacuum cleaners in India, with prices starting at Rs. 32,500. The Jet 90 Complete, the most advanced as well as powerful item in this line, costs Rs. 49,990. Is the Samsung Jet 90 Complete the best premium cordless vacuum cleaner you can purchase right now in India. However, competing with brands like the Dyson V12 Detect Slim? Learn more from this review.
Design and Usage
Samsung chose a more refined and subtle approach to the design of the Jet 90 Complete vacuum cleaner in contrast to its rivals. Which frequently have a bit of a huge, colourful, and indiscreet appearance. The Jet 90 employs a cyclone-based suction technology, with nine cyclones producing the suction strength for the vacuum function. It is only available in one silver colour option.
It's interesting that the Samsung Jet 90 Complete's whole cyclone mechanism. The air filter is inside the 0.8L dustbin and can be out and cleaned with water. The suction input is below the dustbin, and the motor's air vents are just below the dustbin fixture. The airflow is given a little tweak and peculiar direction as a result of this configuration. According to the manufacturer, the air filter can collect 99.999 percent of allergens and dust particles measuring 0.5 microns or bigger.
The Samsung Jet 90 Complete's handle is at the rear, but as the vacuum cleaner's weight distributes away from the handle, it feels a little heavy in the hand, especially while cleaning top surfaces.
Fittings and accessories
The Samsung Jet 90 Complete goes above and above by including the remarkable 'Z Station' charging station, whereas rival cordless vacuum cleaners just provide standard charging adapters and plugs or wall-mounted docks. This complex device is in a way to simplify charging and storing the Jet 90 vacuum cleaner and its accessories very simple. Moreover, you may also charge a second battery while the primary battery connects to the vacuum cleaner is also charging.
The Z Station's base is heavy and includes a place for the second battery to charge, which makes it steady when the Samsung Jet 90 Complete is docked on top. The base is connected by the adapter and power cord. You may simply remove the battery from the vacuum cleaner and charge it on the base alone if for some reason you don't want to set up the charger in its tower shape. The main stand contains connectors to clip on the smaller fittings for convenient access and charges the vacuum cleaner as soon as it is set on it.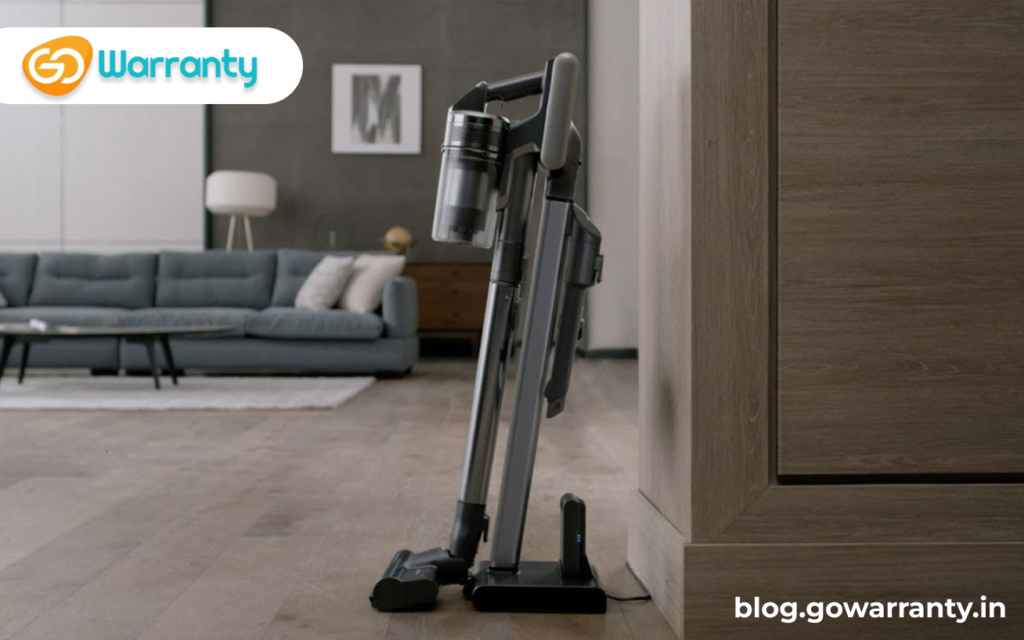 The Samsung Jet 90 Complete vacuum cleaner comes with a variety of cleaning tools, including a combination and crevice tool, a flexible tool, a turbo action brush for tough stains on floors, a soft action brush for routine floor cleaning, a mini motorized tool for top surfaces, and a flexible tool to angle the fittings to reach hard-to-reach areas.
Performance and Battery life
With regard to suction power, the Samsung Jet 90 Complete vacuum cleaner is very similar to its Dyson rival. The gadget is one of the most powerful vacuum cleaners in its category, with a 200W peak suction power and a nine-cyclone mechanism for creating suction. This did show in regular use.
Of course, suction power alone isn't enough; for thorough cleaning, the right cleaning heads must be used to efficiently remove dirt and dust from varied surfaces. The soft action brush with the fluffy roller was sufficient for hard floors in the majority of cases while I occasionally discovered that the turbo action brush worked better, especially over carpets and when it was really dirty.
The little motorised tool is designed to be used without an extension pipe on soft surfaces like couches and mattresses for routine cleaning. Despite considerable flexibility, I discovered that the head wasn't as good at taking up dust and debris on irregular surfaces like the spaces between cushioning or the fabric knots on couches.
The Samsung Jet 90 Complete vacuum cleaner has a respectable battery life, but it falls short of those of competitors with similar prices, including the Dyson V12 Detect Slim. When utilising a motorised cleaning head, I was able to use the Samsung Jet 90 Complete for around 25 minutes on a single charge when using the 'Mid' power option, and for about eight minutes when using the 'Max' setting. The device's stated runtime in "Min" power mode is up to 60 minutes.
Verdict
Despite the number of affordable vacuum cleaners available, buying a high-end cordless vacuum cleaner has several advantages. The Samsung Jet 90 Complete gives the type of luxury experience you would anticipate from a high-end vacuum cleaner. While being pricey in comparison to other vacuums. The Samsung Jet 90 Complete mainly provides a pleasant cleaning experience because of its strong suction, solid supplied fittings, and distinctive and practical Z Station charging port.
However, there are a few small flaws, such as a mediocre battery life. A tricky trash cleaning procedure, and an awkward grip location. Nevertheless, these problems didn't significantly interfere in my overall satisfaction with the Samsung Jet 90 vacuum cleaner.
GoWarranty's Extended Warranty for Vacuum Cleaners
It's necessary nowadays to keep your appliances away from different damages. With GoWarranty's extended warranty you have the option of protecting your device for a further two years. As a result, the total duration of the manufacturer's guarantee and extended warranty does not exceed three years. This will help you extend the life of your vacuum cleaner by extending the manufacturer's warranty. Also, all brands purchased in India are covered by an extended warranty in which malfunctions. And breakdowns are covered with free pick-up and drop-off or in-home service. Guaranteed repair or replacement. If we are unable to fix it in time, you will be given a free replacement.