This year, Samsung altered its tablet strategy slightly. Rather than offering just two premium tablets to compete with Apple's iPad Pro lineup, Samsung unveiled three high-end slates at its February Unpacked event. The Samsung Galaxy Tab S8 Plus sits in the middle of this new family and is aimed at those looking for a slate that can be used for both work and play. But, with a price tag that rivals the best of Apple's M1-powered tablets, as well as some powerful Windows devices, can Samsung's Android tablet truly compete? Check the review of the Samsung Galaxy Tab S8 Plus.
Price
$899 / £849 / €949 for the Samsung Galaxy Tab S8 Plus (8GB/128GB).
$979 / £929 / €999 for the Samsung Galaxy Tab S8 Plus (8GB/256GB).
$1,099 / £999 / €1,099 for the Samsung Galaxy Tab S8 Plus 5G (8GB/128GB).
£1,049 / €1,149 for the Samsung Galaxy Tab S8 Plus 5G (8GB/256GB).
Design
When it came to designing the new Tab S8 series, Samsung didn't hold back. Premium materials, superior construction, and appealing designs all contribute to high-quality hardware that exceeds expectations.
The Galaxy Tab S8 Plus has the same design as the Apple iPad Pro line, with flat side edges and a clean metal back panel. Samsung upgraded the materials to use the same Armor Aluminium found in this year's Galaxy S22 smartphones, which it claims increases the tablet's strength and hardness by 40% and 33%, respectively (compared to the Tab S7 series). For scratch and damage resistance, the display glass is made of Gorilla Glass 5. The device lacks an IP rating, which is unusual for a tablet.
The Tab S8 Plus retains the basic design of last year's Tab S7 Plus. Although it is a large slate in terms of width and height (285 x 185mm), it is extremely thin (5.7mm). The weight of the tablet is 567g (1.27lbs), which is typical for a tablet of this size. It's small and light enough to carry with me on a recent business trip, but it's a little too big for casual browsing on the couch. However, when propped up on a desk or table, it does not appear overly large.
How good is the screen of the Galaxy Tab S8 Plus?
Samsung knows how to make killer displays, and the large panel on the Galaxy Tab S8 Plus defines the user experience. The diagonal size of the Super AMOLED screen is 12.4 inches, which is the same as the Galaxy S7 Plus as well as Galaxy S7 FE tablets but slightly less than the 12.9-inch Apple iPad Pro. It has a resolution of 2,800 x 1,752 pixels and a 16:10 aspect ratio, giving it a pixel density of around 266ppi and a rich viewing experience regardless of the content. When viewing movies, documents, websites, and apps, the sharpness and clarity were excellent.
In terms of brightness and colour, this is typical Samsung AMOLED behavior. Brightness can reach 500 nits, which isn't ideal, but I had no trouble seeing the Tab S8 Plus display regardless of the lighting conditions.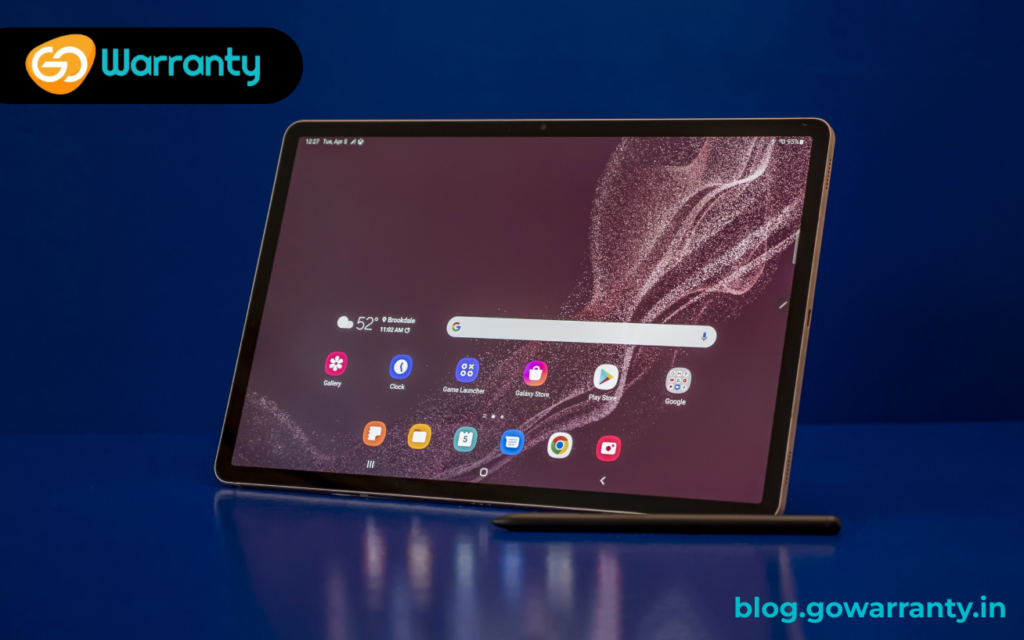 Battery
This would be the Samsung Galaxy Tab S8 Plus' Achilles' heel. Samsung claims that the tablet's 10,900mAh battery will last all day. It can, but not much more than that. During my testing, I used the Galaxy Tab S8 Plus extensively as a work machine, which included a variety of tasks such as email, messaging, browsing, checking YouTube, editing photos, and so on all while listening to music via Bluetooth headphones. These days, the tablet's battery life has never exceeded 8.5 hours. That is, admittedly, a fairly heavy load, but it is still inadequate in comparison to other tablets on the market.
The Tab S8 Plus supports wired charging up to 45W using a compatible USB Power Delivery PPS charger, but no brick is included. We tested it with a standard 30W charger, which also took about 105 minutes to recharge the tablet, as well as a Samsung official 45W charger, which took about 80 minutes.
S Pen
According to Samsung's marketing materials, the Tab S8 Plus's abilities are all derived from the S Pen. There is certainly a lot you can do with the S Pen, but I wouldn't put it that way. Let's start with the basics: the S Pen itself is fantastic. It's a full-sized pen-like stylus with one flat edge that magnetically attaches to the charging pad on the back panel. It's a pleasure to hold and use on the screen. I'm not sure how long it takes to charge the pen, but Samsung claims it lasts about 100 hours on a single charge.
Software
The tablet comes preloaded with Android 12 and Samsung's One UI 4.1. It did, however, recently receive the Android 12L update, which brings a slew of new features designed for larger screens to the device — learn more here. The Tab S8 Plus would include Samsung DeX for a PC-like computing UI, in addition to solid support for split-screen multitasking. Some people might benefit from using this mode, especially for work or productivity tasks. I really like the Galaxy device continuity features, which allow you to do things like copy text from your Galaxy S22 phone and paste it on the Tab S8 Plus, as well as seamlessly share accessories like Galaxy Buds or Bluetooth keyboards.
Camera
The camera configuration on all three Galaxy Tab S8 slates is the same. That translates to a 13MP main camera, a 6MP ultrawide camera, and a 12MP selfie camera. The rear cameras perform admirably for tablet photography. You'll get good shots during the day, but not so good at night or in the dark. Of course, using it as a camera is extremely awkward, but that is true of any tablet. The front-facing 12MP camera is far more important.
Verdict
Samsung has produced a series of slates that have set the standard for the Android ecosystem. No other Android tablet provides the same level of high-quality hardware, expressive display, and performance. The Tab S8 Plus, in particular, achieves an ideal balance of size, portability, and power.
However, while Samsung controls the high-end Android market, it is not the only game in town. Competing platforms and devices with laptop-caliber chipsets easily outperform the Tab S8 Plus, especially when it comes to advanced tasks and heavy apps.