Xiaomi has launched the Redmi Smart Band Pro alongside the Redmi Note 11 and Redmi Note 11S. It is clearly positioned as more capable than the Redmi Smart Band based on its name. The new Redmi Smart Band Pro brings many features that are in demand, such as an AMOLED display, SpO2, stress tracking, and the ability to track multiple types of workouts. The price has gone up with the improved feature list, but only by a bit. Does the Redmi Smart Band Pro still offer good value for your money? I put this fitness tracker to the test to find out.
Redmi Smart Band Pro price in India
However, the Redmi Smart Band Pro's base price is Rs. 3,999 in India, but on the occasion of valentine's day the company came up with a limited offer of Rs. 3,499. It goes live on all platforms on February 14 at 12 p.m.
Redmi Smart Band Pro design
It has a wonderful design which has a  rectangular polycarbonate body with a 1.47-inch AMOLED display. This panel is large enough to read text on without having to squint easily. Yet, a special feature is always-on-mode with an ambient light sensor which monitors the brightness automatically. The SmartBand Pro contains no buttons, and navigation is purely touched. You get Thermoplastic Polyurethane straps that are curved, similar to the Mi Band 6. It has a proprietary connector, making them easy to remove from the dial. It has all health sensors on the underside of a rectangular dial in a pill-shaped dump.
Therefore, to the underside of the Mi Smart Band Pro has all the health sensors placed in a pill-shaped bump. The supplied charger has magnets, making it easy to plug this fitness band in for charging.
Redmi Smart Band Pro software and features
One can pair the Mi Smart Band Pro with Android as well as iOS smartphones using the Xiaomi Wear and the Xiaomi Wear Lite apps, respectively. Thus, to get a track record of daily activities on your smartphone pairing with the application is vital. The process involved in pairing the smart band with a smartphone is easy and simple. For that, you require a MI account. Once paired, either app can change some of the Smart Band Pro's settings.
The apps support multiple Mi and Redmi wearables. They are very easy to use. After the successful synchronization of the band with the application installed in your smartphone, additional display parameters are visible. One can easily change the watch face through the app as it has 50+ watch faces. This smart band pro also helps to set any picture from the phone gallery as a watch face. To change the watch face it must be charged till 40 at least.
Moreover, the Redmi Smart Band Pro runs on custom software. This software is powered by the Ambiq Apollo 3.5 SoC. This software provides an ideal solution for all the battery-powered applications for monitoring sensitive data. It has Bluetooth 5 LE for connectivity. This smart band pro doesn't support GPS functionality which is a negative feature. If you want the positioning of this smart band pro one has to rely on a connected smartphone. One can get notifications like SMS, Social media applications like Snapchat, Whatsapp, Instagram updates. This band supports incoming calls but one cannot attend calls. Due to the absence of a speaker for communication. Thus, music and camera can be controlled on this smart band pro.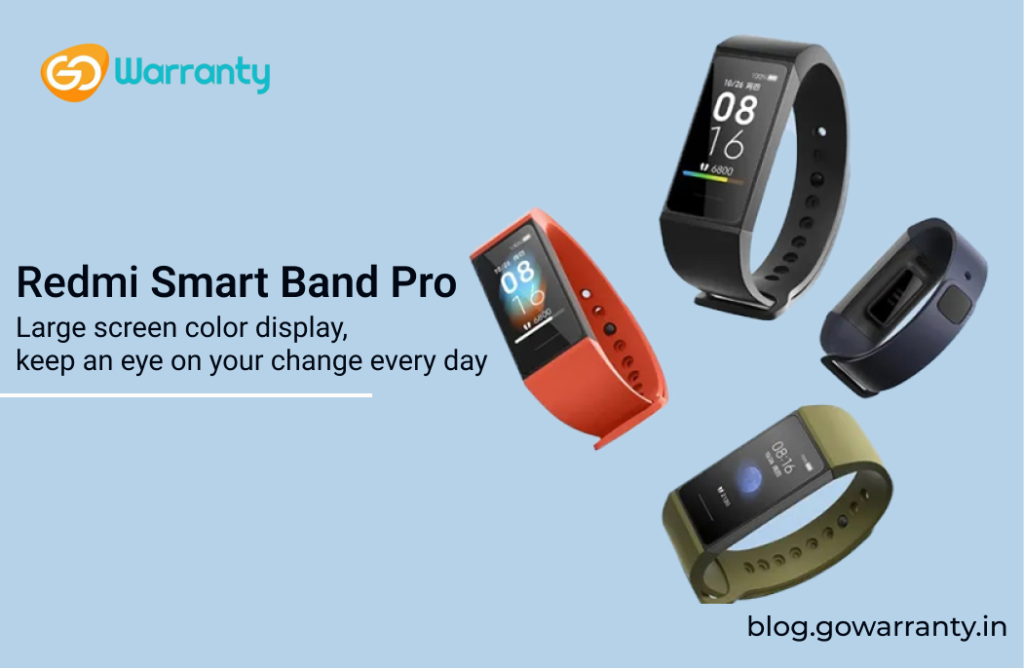 The Redmi Smart Band Pro retails for Rs. 3,999 in India
The Redmi Smart Band Pro is super-light at just 25.5g. It is packed in a  200mAh battery. It is 5ATM water-resistant. You can track nearly 110 different workouts, including 14 water fitness exercises on the Mi Smart Band Pro. It can activate commonly used ones such as walking, running, cycling, HIIT, trekking & swimming. Therefore, the band pro gives an option to edit the workout list available on the fitness band right away based on your workout regime. 
The Mi Smart Band Pro can auto-detect some running, walking, and treadmill use. The Redmi Smart Band Pro can also track heart rate, SpO2, sleep, stress, and menstrual cycles which is a bonus thing. The band can monitor the wearer's heart rate continuously and SpO2 levels while you sleep, but these features are disabled by default to conserve power.
The Redmi Smart Band Pro has a straightforward UI. It is simple but gives the user an amazing experience. In order to access quick toggles swipe the right side from the home screen. Moreover, to access widgets for heart rate, SpO2, weather, workouts, and fitness stats swipe left. To see unread notifications from your paired smartphone swipe downwards from the top of the home screen. Thus, to see all the visible functions of this smart band pro swipe up from the bottom of the home screen.
 Performance and battery life Specifications:
One can use the Mi Smart Band Pro for a week, and it is found that it is comfortable to wear at all times. While the interface is very easy to use, it doesn't feel too fluid at first, especially while scrolling. A software update (1.1.127) fixed this issue during the review period. 
Therefore, there are three specific workouts get detected automatically on this smart band pro fitness tracker. The Mi Smart Band Pro prompts one to track walk within a minute of starting the activity. Since, it has a battery of 200maH which is quite ok for a fitness tracker device. The battery life of this device varies from user to user. It heavily relies on the usage of the device by the user.
The mechanism to charge this smart band pro is simple and easy. It has a USB cable with magnets that is with the iron part of the fitness band. This makes charging easy. 
Pricing & Redmi Smart Band Pro (Review)
| | |
| --- | --- |
| Light and comfortable to wear | Average battery life |
| Always-on AMOLED display | No in-built GPS |
| Accurate step and sleep tracking | Yes |
| 5ATM Water-resistant | Yes |
| Redmi Smart Band Pro | Rs 3,999 |
| Mi Smart Band 5 (Black) | Rs 2,499 |
In brief, this fitness band is friendly and helps you in keeping fit. Staying fit is so important in today's world and this is the perfect device to start your fitness journey especially for a beginner. Thus, it is one of the best fitness band trackers available on the market.