The Philips Air Fryer had been a game changer. It allowed me to stick to my diet since I could make fast snacks without worrying about using too much oil. Most crucially, I could eat French fries without worrying about them being drenched in oil. So I was intrigued when Xiaomi brought me their new 'Smart' Air Fryer for evaluation. I was curious to discover what was different about this place. I've been using this stuff for about a week now, and here's my opinion.
What's Different?
The Xiaomi Smart Air Fryer holds 3.5 litres of food. Additionally, this one includes a separate grill that you can put within the basket. You can create two layers using the grill. For instance, you may keep some chicken wings at the bottom and others at the top of the grill if you are frying a lot of chicken wings. In addition to "air-frying," according to Xiaomi, poultry, vegetables, frozen snacks, and french fries, you can use the air fryer to bake a cake, dry out your fruits, and even make curd.
The fact that this air fryer is "smart" makes a significant difference, though. Because of this, your smartphone's Mi Home software can connect to this. I'm not sure why someone would pre-schedule a dinner, but you can just start a pre-set programme from your phone. Other recipes can be found in the app. Of course, you can perform all of this baking and air-frying with the device's knob and screen, avoiding the smart way completely.
What's so good?
I had a feeling the device would irritate me when I initially set it up. Is it necessary for everyone to link their 'Air Fryer' to Wi-Fi? But, after I got used to setting the recipe from the app, I realised how much I appreciated it. No more fiddling with the knob to find out what time it is or to change the temperature. I found the app to be more user-friendly.
It was simple to connect this Air Fryer to Wi-Fi and my iPhone. For this, you'll need the Mi Home app on your phone. The Air Fryer should be added to the list of devices. Keep in mind that the convenience of connecting to Wi-Fi may also be affected by the size of your home and the distance between your Wi-Fi router and the kitchen. Most folks who live in flats with an open kitchen should not have a problem.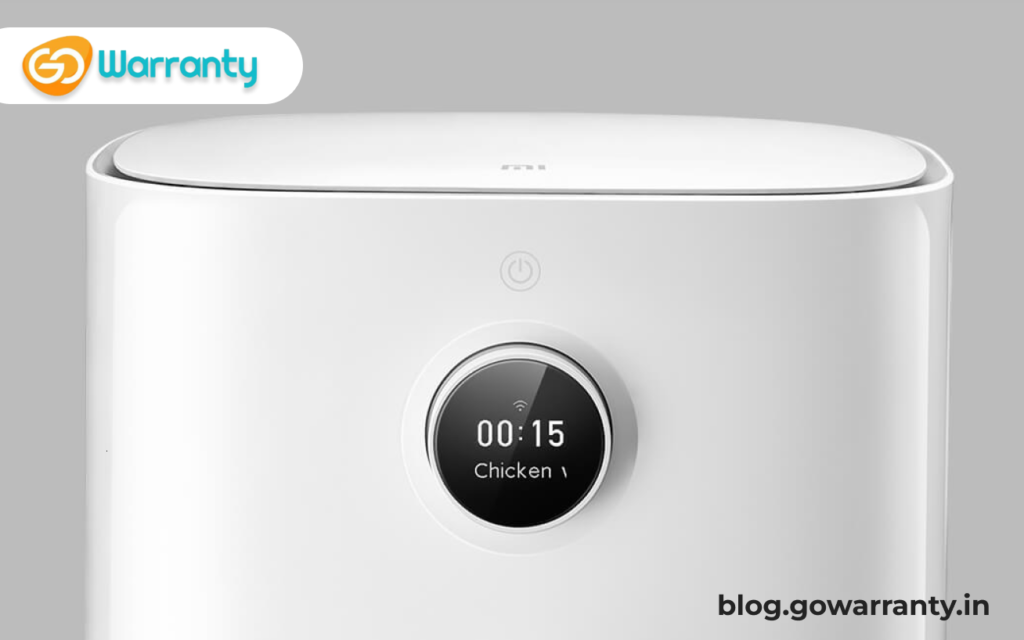 I could see various setup selections for choosing things after connecting the Air Fryer to WiFi using the Mi Home app. French fries, chicken wings, fish, shrimp, vegetables, cake, and dried fruit are all on the menu. When I initially tried the French Fries setting, it suggested a temperature of 200 degrees Celsius, which seemed a little excessive to me. The advantage of this Air Fryer is that it reminds you to shake the fries while they cook. This is an important step in air fryer cooking, and Xiaomi reminds you of it.
Another benefit is that the Xiaomi Smart Air Fryer's basket has a nonstick coating rather than the steel grill design of my Philips. It typically makes cleaning much simpler.
In my opinion, the Xiaomi app's recipes area is quite useful. It provides choices for various stuff that you would regularly cook in this. Xiaomi has clearly spelled out the procedures for everything from potato wedges to baked eggs and tofu, as well as lamb chops and salmon, in this recipe section. It specifies the precise amount, the components, the time and temperature, and the steps to take. I'm going to try tofu next because it always comes out perfectly in the Air Fryer.
What's not so good?
The air fryer also claims to be capable of producing curd. I tried it, and according to the directions, the milk+curd combination should be placed in a glass dish inside the air fryer. But by the time I got halfway through, the milk had spilled into the remainder of the basket. So, yes, it wasn't perfect. Perhaps there is another method, however it did not work for me. Furthermore, I don't see many people utilising the Air Fryer for this reason.
It can be tricky to use the manual mode, especially since my Philips one is really old school and straightforward compared to this – you simply flip the dial on top for the temperature and the one at the bottom for the time, and you're done. My main issue with the Xiaomi Smart Air Fryer is the colour. This pure white will not last long in Indian cuisine. Xiaomi should make this in black. I can already picture how many turmeric stains would stick to this if I used it on a daily basis. I'd also want to mention that the Air Fryer is a little too small. I'm not sure you could bake a cake in this. Because you'd need a baking pan that fits inside. I don't think I have a baking tin this size in my collection.
Verdict
If you've been seeking an air fryer and want something clever and tech-savvy. And by "good with technology," I mean you've always coveted smart kitchen devices and are confident in your ability to master the ropes quickly. The Xiaomi Smart Air Fryer performs excellently. It is an excellent solution for eating all of your favourite snacks, especially those that are pre-frozen, without worrying about excess oil.
However, if you have a large family and frequently hold parties, this one might not be large enough. This might also serve as a backup air fryer in your house if the primary one is overworked and there is a big demand for snacks. Finally, if you want kitchen gadgets that are simple to operate and comprehend, the Xiaomi Smart Air Fryer may be too much for you.