Full HD resolution in a 32-inch TV has become increasingly rare in recent years. Surprisingly, during the non-smart TV era, that combination was quite popular. Manufacturers eventually sacrificed the extra pixels to keep costs low, as smaller screen sizes were primarily targeted at price-sensitive buyers.
LG has added another new television to its lineup. We'll go over all of the specifications and features of the LG LQ57 smart TV in this review. LG's latest HD Ready Smart LED TV is the LG 32 LQ. It includes all of the necessary and useful smart features that have now become the modern norm. The LG LQ57 is powered by the Alpha 5 Gen 5 AI processor. This TV has 1 GB of RAM and 8 GB of storage. It also works on WebOS.
Realme has so far chosen screen sizes and resolutions that are conservative in the smart TV segment. Now, the company has decided to branch out with a new 32-inch Full HD Smart TV. It's time to see if it was a wise decision.
LG LQ57 Smart TV
I've categorised the various features of this TV. You can check the Display and Panel details, Speakers and Sounds, Smart features, Connectivity options, Internal hardware power, and so on.
Display
This television has an HD Ready smart LED display. The resolution is 1366×768 and the refresh rate is 60 hertz. HD Ready is a high-quality display for a 32-inch TV screen. Aside from that, there aren't many features available. However, given that it is a 32-inch entry-level TV, we can't really blame it for the lack of premium features. As of now, this TV is only available in 32-inch sizes. Other sizes' future availability can only be assumed.
Connectivity
In terms of connectivity, we have 2 HDMI ports, Blu-ray players, a Gaming Console, one USB port, and two-way Bluetooth support. Since this is a low-cost TV, we don't see high-end connectivity options like eARC.
Sound
This TV has a sound system with a 10 watt output. Aside from that, Dolby Digital Plus sound configuration, AI sound, Virtual /sound 5.1, Bluetooth Surround Ready, as well as AI acoustic tuning will be available. This tech cluster cannot provide the larger-than-life sound experience provided by premium TVs, but it can provide sufficient sound quality. However, if you want to use a soundbar or home theatre system with this TV, you can.
Smart TV Features
Since it's a smart TV, it must have some smart TV features. There are, in fact, some. This TV supports voice control via Amazon Alexa and Google Assistant. It also works with Apple AirPlay and HomeKit. This device also includes HDR 10 Pro. Furthermore, many supported apps, such as Netflix and Amazon Prime Video, will be available.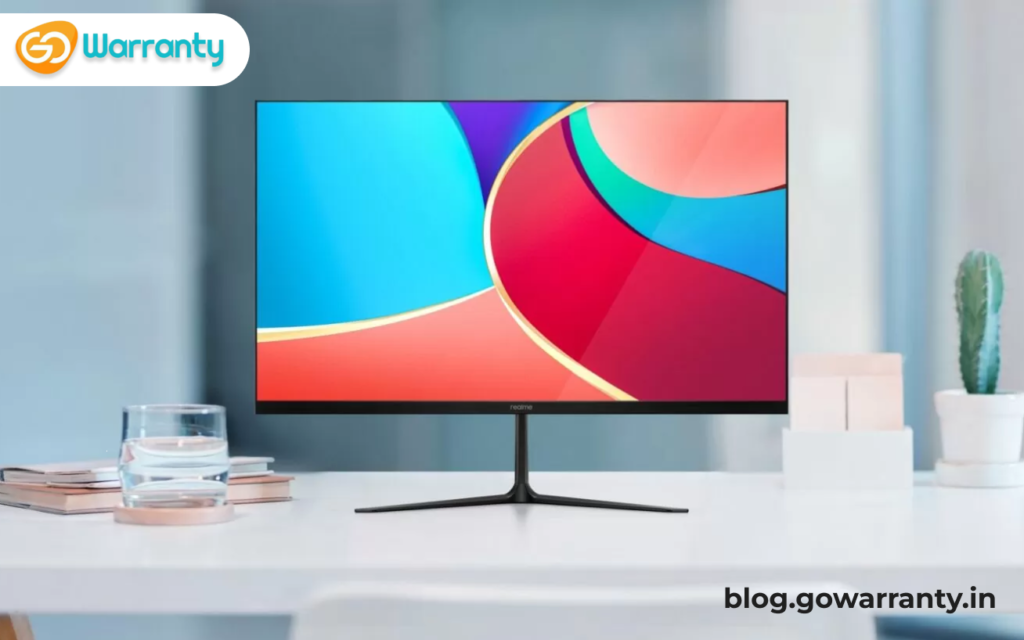 Realme Smart TV Full HD 32 inch
The Realme Smart TV Full HD 32 is available for Rs 18,999 on Flipkart and the company's website, with a one-year parts warranty and a two-year panel warranty.
Design
The design is quite appealing, with the TV nearly bezel-free on three sides. It has a thicker bottom bezel with a tiny chin in the centre that houses a power LED and an infrared receiver. Using the included stands, the TV can be easily wall-mounted or placed on a desk. The plastic stands are lightweight but secure the TV in place. The wall mount kit is not included and will most likely need to be purchased separately. The required screws are included, as well as their standard wireless remote control and even a pair of AAA batteries.
Connectivity
Three HDMI ports, of which one supports ARC, two USB 2.0 ports, digital audio out, A/V input, and a LAN port round out the connectivity options. All of the ports are located on the left side of the television. Since this is a small TV, the ports are easy to access even if it is wall mounted.
Features
This television has a 32-inch panel with a Full HD resolution of 1920 x 1080 pixels and a refresh rate of 60 Hz. The peak brightness has not been specified, but it claims to support two HDR formats, HDR10 and HLG. A quad-core Mediatek chip with 4 ARM Cortex A53 cores and a Mali-470 MP3 GPU powers this TV. Each of the four CPU cores has a throttle range of 1000 to 1300 MHz. You get 1 GB of RAM and 8 GB of internal storage, with the official Android TV 9.0 OS taking up some of it.
Picture Quality
For a low-cost television, the picture quality is quite good. The panel is bright, and the picture on this TV is quite sharp due to the higher pixel density. The colour reproduction is also excellent. Colours appear slightly saturated out of the box, despite being vibrant, and some may prefer it that way.
On this TV, 1080p content appears sharp and vibrant, with vibrant colours. I should mention that skin tones appear quite natural on this screen, which is something that not many budget TVs can boast about. 720p videos are nearly as good.
Performance
When you turn on the TV from the wall, it takes about 40 seconds to boot up, which is standard for an Android TV. Following that, if you switch it off and on with the remote, the TV returns to standby mode in a matter of seconds, so there are no issues there.
Verdict
LG 32 inch smart TV is a new addition to LG's existing TV series. It is a low-cost television. It is currently only available in 32-inch screen size. Because of the Independence Day sales, now is a good time to buy a good television.
In case of realme the price may appear to be a little high for a 32-inch TV, but most of those TVs have a 768p panel rather than 1080p like this one. However, the price is too close to that of some 40-inch TVs, which offer the majority of the features available here on a larger screen. So, unless you're short on space, a larger screen for a few thousand rupees more is the logical choice.
The Extended Warranty from GoWarranty
When buying a television, always get a good extended warranty. Avoid low-cost extended warranties that provide inadequate service. Go Warranty's extended warranty plans are the best and most highly recommended for these. It is also recommended by well-known YouTubers such as UdRawat. GoWarranty offers the best extended warranty services to ensure that your television runs smoothly. If you buy it for these televisions, you'll get an extra 4-year warranty, for a total of 5-years.
Realme Smart TV FULL HD vs LG LQ57 2022 Model 32 INCH TV Full In Depth Comparison ⚡📺⚡