While there are various budget monitors on the market, none are perfect. When Realme announced its first monitor, complete with a USB Type-C port, I was immediately intrigued, especially given the asking price. I've been putting the Realme Flat Monitor with a 23.8-inch VA panel through its paces. Is the Realme Flat Monitor worth its aggressive price of Rs. 10,999? To find out, read our full review.
Overview
The realme Flat Monitor has a thickness of 6.9mm and a bezel-less design. There is also a metal display stand included. While the bottom bezel is somewhat thick, the bezels on the other three sides are narrow. It features a 23.8-inch flat LED display with full HD resolution, an 8ms response time, and 75Hz refresh rate support for a more fluid movie viewing and gaming experience. The display is glare-free and has a maximum brightness of 250 nits. The Real Flat Monitor also supports a 178-degree horizontal viewing angle. HDMI, USB Type-C, VGA, as well as DC power input are all supported in terms of I/O.
Price
In India, the Realme RMV2201 23.8 inch Full HD LED Monitor costs Rs. 10,999. Realme RMV2201 23.8 inch Full HD LED Monitor can be purchased online after finding the best price here. On January 20, 2023, the price of the Realme RMV2201 23.8 inch Full HD LED Monitor was updated.
Design
The Realme Flat Monitor is one of the best low-cost monitors I've tried so far. To begin with, it is a very thin monitor, measuring 6.9mm in thickness. Similarly, the entire monitor is very light, weighing only 2.3KG. The Realme Flat Monitor supports 5 percent front tilt and 15% back tilt, as expected. The monitor also supports VESA mounting and comes with an easy-to-install stand. Despite being a low-cost monitor, it does come with a metal stand and a tool for attaching the mount to the monitor.
Even from the front, the monitor appears modern due to its thin bezel design. Furthermore, it has a higher screen-to-body ratio, making it appear even more immersive. Overall, the Realme Flat Monitor is one of the most attractive monitors available in India for around Rs. 11,000 or less. With this adjustment, you can tilt the realme 23.8-inch display by 5° to 15°, allowing you to set the proper viewing angle based on your height.
Connectivity
Although the monitor lacks the most recent connectivity features such as HDMI 2.1 or DisplayPort 1.4 (which are essentially unnecessary for a 1080p monitor), it does an excellent job of providing a variety of connectivity options such as a VGA port, HDMI port, and a USB Type-C port. As a result, regardless of the laptop or PC you own (even if it is more than ten years old), you should be able to connect it to the Realme Flat Monitor Design without the need for an additional dongle/converter.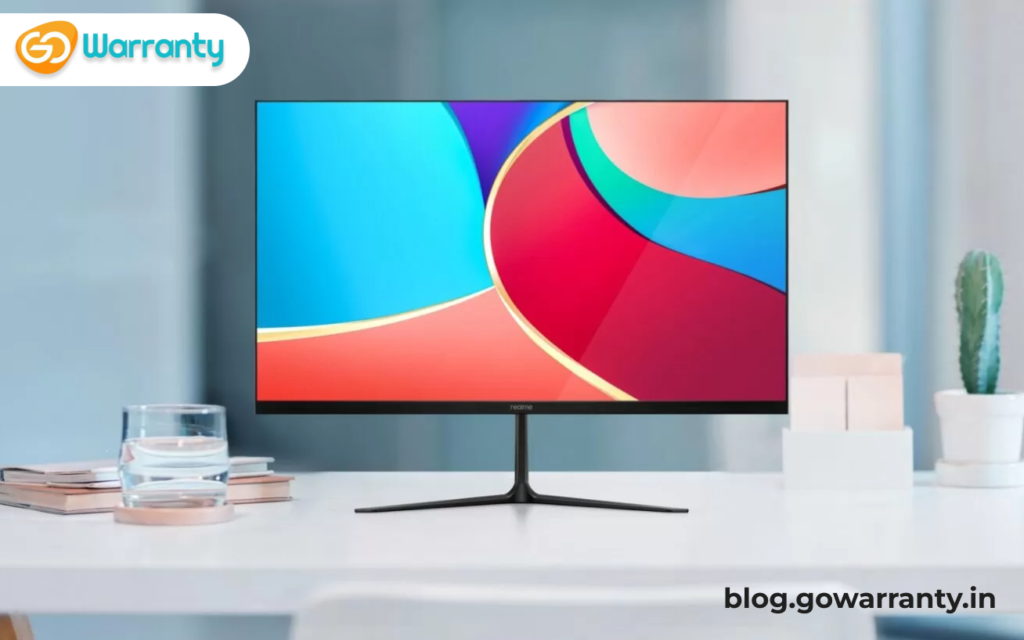 Performance
The Realme Flat Monitor performance is a mixed bag. It's great to see a large 23.8-inch FHD resolution VA panel in such a small package. However, there are a few flaws that make it feel a little underwhelming.
The Realme Flat Monitor also seems to have a rated refresh rate of 75Hz, which is good given that most monitors in this price range only have a refresh rate of 60Hz. However, the monitor has a peak brightness of only 250 nits, and it does not get as bright as some similarly priced monitors from brands such as LG. The content looks good when viewed directly on the monitor. Despite having a 178-degree viewing angle, the colours tend to fade away when you move slightly off-axis. However, when it comes to colour reproduction, the monitor's 100 percent sRGB colour space coverage helps it deliver vibrant colours.
Drawbacks
While the Realme Flat Monitor looks nice, it lacks built-in speakers. The monitor also lacks an audio output port, so external speakers must be plugged directly into the PC or laptop to which the device is connected. Realme includes an HDMI cable in the retail package. However, if you want to connect a laptop with a USB Type-C port, you must purchase a separate cable.
Verdict
The Realme Flat Monitor is a really appealing product for Rs. 10,999, especially for those working from home as well as looking for an affordable monitor with multiple connectivity options. The monitor's thin-and-light design, premium looks, and ability to accept input from the USB Type-C port are undoubtedly the highlights of this 75Hz Realme Flat Monitor.
The realme Flat 60.5 cm (23.8) Full HD Monitor is an excellent choice for both personal and professional use. It's simple design allows you to focus completely when viewing images on the screen. With its three-sided, bezel-less display, this monitor also gives your workstation a tidy, modern appearance. Furthermore, with a refresh rate of up to 75 Hz, this monitor provides fluid scenes, allowing videos to play smoothly and fluidly.
GoWarranty's Extended Warranty
When purchasing a television, you should always get a good extended warranty. Avoid low-cost extended warranties that offer poor service. For these, Go Warranty's extended warranty plans are the best and most highly recommended. Well-known YouTubers like UdRawat also recommend it. GoWarranty provides the best extended warranty services, ensuring that your television is trouble-free. Purchase it for this REALME 23.8 Inch FULL HD Monitor and receive an additional 4-year warranty, for a total of 5-years.