Portronics, a market leader and supplier of innovative, digital, and portable devices, announces the release of Portronics Dash 12, the company's next-generation boombox speaker. After the predecessor "Dash 11" received an overwhelmingly positive response, the company now unveils the more potent and feature-rich Dash 12. The brand-new wireless speaker combines two bass radiators, a Karaoke microphone, and TWS functionality. The business is happy to celebrate its 12th anniversary in India. Scanny was able to pique the interest and approval of its target audience because of its rich feature set and affordable cost.
The company Portronics, which is well-known for its portable electronics, provides a variety of products including projectors, digital writing pads, smart plugs, power supplies, smart wearables, car accessories, laptop and mobile accessories, and other categories. Additionally, Portronics intends to broaden its focus to include gaming accessories, AR/VR headsets, and AV conferencing solutions. Portronics has had significant growth throughout the years and plans to continue setting new standards in the next few years. Additionally, we have committed to manufacturing up to 50% of all new items in India as part of our effort to produce "Make in India" goods. Although Portronics has been there for some time, many new businesses have just entered India's accessories sector.
Price and Availability of Portronics Dash 12 TWS Boombox Speakers
With a maximum retail price of Rs. 12,999, Portronics has introduced the Sprint 12 TWS boombox audio system in India. The speakers are currently available for purchase at a discounted price of Rs. 7,799 with a 12-month warranty on Portronics.com, Amazon.in, and in other prominent online and offline retailers. However, there was only ever the option of purchasing it in the colour Black.
The Sprint 12 TWS audio system is featured on Amazon.in with a price ticket of Rs. 7,499, despite the reduced price announced by the company being Rs. 7,799 instead.
Specifications of Portronics Dash 12 TWS Boombox Speakers
Dash 12 is a real powerhouse, with strong dual drivers that pump out a whopping 60 Watt of loud and clear audio power, producing engaging music enjoyment. Two Dash 12 speakers working in unison to provide a massive 120 watts of peak audio will ensure that your party is one to remember for a lifetime. To expand your music to other rooms in a big house, the TWS mode also offers multi-room audio distribution. The built-in multi-colored LED Lights, which flash in various colours on each shifting beat, provide glitter to your celebration. At the touch of a button, any floor may now transform into a dance floor.
Additionally, there are integrated multicoloured LED lights that flash in time with the music. A microphone for the Karaoke mode is included with the speakers, which is useful for house parties. Additionally, it has an equalisation feature that enables users to modify the bass, treble, and other musical elements.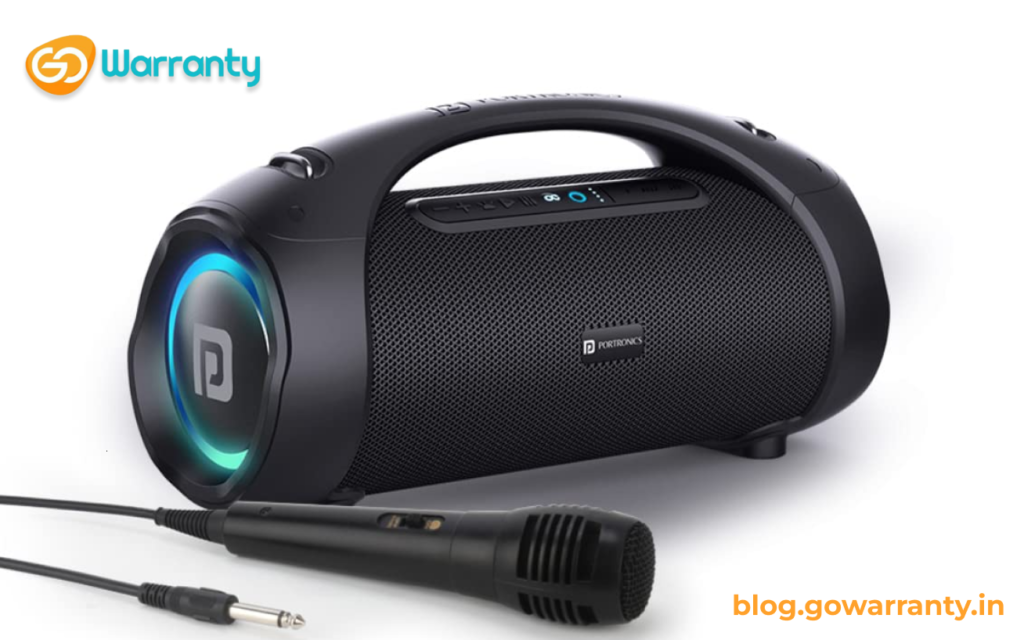 The Dash 12 TWS speakers from Portronics now include a built-in voice assistant capability for hands-free operation. With the use of the TWS technology, customers may pair two Dash 12 speakers for a combined audio output of 120W by using Bluetooth v5.0. The 6,600mAh battery in the Dash 12 speakers has a USB Type-C connector for charging, and it can support up to 9 hours of playback time and up to 5 hours of playback at maximum volume. Dimensions of the speakers are 458x181x230mm.
Karaoke Mode
The karaoke option makes those spontaneous get-togethers and parties even more enjoyable. A wired microphone that will transform the atmosphere of your house parties with Karaoke is included with the Dash 12. And if you need to shake a leg, just put in a USB pen drive with a playlist or use Bluetooth to play your music wirelessly. Set the equalisation to your specifications, then relax and take in the beat. The Dash 12's voice assistant feature is built-in and adds convenience to functionality. Just speak your commands to the Dash 12 and it will take care of the rest.
Portable and Water Resistant
Because of the integrated handle, the Portronics Dash 12 is also quite portable and can be taken anywhere you go. The Dash 12 may be used practically everywhere because it is IPX5 water-resistant, whether by the pool or on the beach. Finally, the boombox's built-in 6600mAh rechargeable battery can keep you occupied well into the night. Play music nonstop for up to 5 hours. Faster charging speeds and the best level of compatibility with current charging standards are guaranteed by USB-C charging ports.
India will be the manufacturing base for 50% of Portronics' goods
In India, a lot of new companies have entered the accessories market recently, although Portronics has been there for a while. The firm, which arrived in India in June 2010 and has locations all around the nation, is now commemorating its 12th anniversary there by announcing new initiatives that are intended to advance its "Make in India" mission.
According to the brand, Portronics soon intends to increase the number of its distributors, merchants, and exclusive retail locations in India. "Now with a goal to create 'Make in India' items, we are determined to manufacture up to 50% of all our forthcoming products right here in the nation, by the end of this year," stated Jasmeet Singh, Founder & Director of Portronics.
With SCANNY, its flagship product and the first Portable Scanner ever introduced in India, Portronics entered the Indian market in June 2010. Due to its extensive feature set and reasonable pricing, Scanny was able to capture the interest and appreciation of its target audience. The firm claims to have introduced 2000+ goods across more than 30+ product categories in the previous 12 years. Additionally, according to the firm, Portronics has sold a record 50 million devices. The organisation stated that it is affiliated with 1000+ Distributors and 25000+ Premium Retailers while providing further details about its presence in the area.