The Nokia T10 might be this year's best 8-inch, low-cost Android tablet. It has a low starting price of 170 Dollars and for just 20 Dollars more it offers twice the storage with 4G, a robust HD screen, and three years of software upgrades. So, do you need a tablet? You'll discover that in this Nokia T10 review.
Design and Build Quality
The Nokia T10 has thick screen bezels on the top and bottom, giving it the appearance of an outdated tablet. Additionally, it weighs 375g and is 9mm thick. Its body is made of plastic polycarbonate, and it comes in the turquoise shade Deep Ocean. Having said that, the plastic body has a good texture on the rear, which prevents it from seeming cheap.
It feels more solidly constructed than other tablets like the Amazon Fire HD 8 but less so than the metal-bodied Realme Pad mini. A 3.5mm headphone jack, a volume rocker, a USB C 2.0 port, and a power button are included. If you purchase the LTE version, the SIM card is also placed there, and you can increase the capacity using a microSD card. There is no fingerprint reader present.
Display and Speakers
The 8-inch display on the Nokia T10 is mostly what makes it fascinating. Although I really like this screen size, you can find far better 10-inch tablets for the same price if you like a larger tablet. An 8-inch tablet is neat because of how compact it is, which makes it fit into most jacket pockets.
Its standard, completely laminated LCD 8-inch display has a 16:10 aspect ratio. Since the resolution is only 1280 x 800 pixels, most inexpensive smartphones have a far greater pixel density. However, I believe that HD resolution of 8 inches is acceptable at this price point, and the pixel density is comparable to a 10-inch full HD tablet.
You may view Netflix and other streaming services in HD definition because it has a Widevine Level of L1. With the larger Nokia T20, this was not possible. However, it is not a great media tablet because the speakers might be a little scratchy at maximum level. The sound is fine after you set it down a notch. Then it's time to unwind with YouTube and some music.
Hardware and Performance
The Nokia T10 is powered by a Unisoc T606 processor with 3GB or 4GB of RAM and 32GB or 64GB of internal storage. It is also available with inbuilt LTE. I enjoy how the most expensive version is only $20 more expensive than the lowest.
It performs as predicted by the benchmarks in my gaming test. Most games don't require too much performance because many people prefer to buy less expensive devices, and most creators wish to attract these customers as well. As a result, games with HD visuals, such as PUBG Mobile, are quite enjoyable. But you can't even change the graphics settings.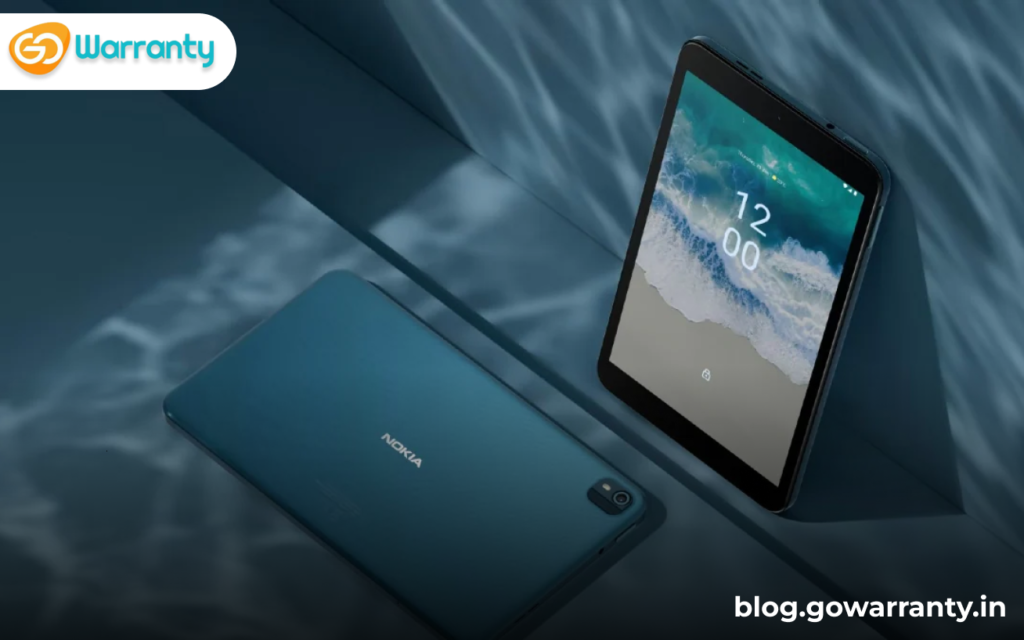 Aside from that, the performance is adequate for simple programmes. I used the Nokia T10 to browse the web in Chrome, view YouTube videos, read with the Kindle app, and browse Instagram. On an 8-inch screen, this smartphone app appears to be workable. I also plugged in a Bluetooth keyboard and did some writing in Microsoft Word. That works perfectly.
Software: Android 12 with updates
The Nokia T10 ships with Android 12 out of the box, with little to no interface changes. It's pretty much stock Android, which is fantastic. Some advertisements are pre-installed, such as Spotify, ExpressVPN, and Amazon Shopping, however you may easily uninstall them.
Almost every Google app appears to be pre-installed, which I believe is a positive thing for Android smartphones. Google Kids Space and Entertainment Space are two of them. The latter is heavily embedded in the home screen. Normally, you can easily deactivate it, but in this case, the setting does not work. I suppose it's a bug.
You should be able to utilise the T10 as a secondary display for your Windows devices as well. There is a pre-installed software for that, and Windows recognises it. However, it failed every time I attempted to connect it to my laptop. That's probably another bug.
LTE and other Features
I purchased the LTE version of the Nokia T10, so I used it outside with my SIM card for a while. The internet connection was mostly consistent, however in speed tests, it performed somewhat worse than my smartphone. It is possible that the connection is not as good in the countryside with inexpensive tablets. But because I was in a huge metropolis the entire time, I couldn't put it to the test.
Unfortunately, you cannot make phone calls or send SMS text messages with this tablet. That's quite frustrating considering it's possible with most Android tablets that support 4G or 5G. Sure, there's no earpiece, but I've frequently replaced my phone with an 8-inch tablet in the past. You can simply use a headset or ignore all phone calls, which is something I do anyway.
 The phone app is absent, and when you open the messaging app, it prompts you to connect your smartphone. You can't even enable a phone option in the settings. I also experimented with Google Maps, and as far as I can tell, it appropriately displays my location. However, because it lacks a compass, it is ineffective as a navigation instrument.
Verdict
Let's get to the bottom of this Nokia T10 review. I believe it is the best 8-inch entry-level tablet available right now. This is primarily due to the two major Android updates that Nokia has promised. That is extremely uncommon at this pricing bracket. Given its low price, it also has a good screen, adequate performance, and I like that you can double the storage and get LTE for only $20 more.