It's been a while since Logitech launched a webcam for non-creators — the Logitech Brio 4K debuted in 2017, while the company's ride-or-die C920 debuted in 2012. So, after only a decade, Logitech is finally releasing the Logitech Brio 500, a new 1080p full HD webcam aimed at personal and professional users. While a 1080p webcam may not seem exciting, especially when Dell's new similarly priced webcam is 2K and the 10-year-old C920s is…also a 1080p full HD webcam, there's more to webcams than resolution! (Plus, most video conferencing apps won't let you stream in resolutions higher than 1080p anyway.
The Brio 500 has a 90-degree field of view (configurable to 78o or 65o), dual microphones, a built-in privacy shutter, and both Logitech's RightLight 4 image adjustment technology and an experimental "RightSight" AI auto-framing feature, in addition to its 1080p/30fps; 720p/60fps resolution.
The Brio 500 costs $129 and is available in three colours: off-white, rose (pink), and black. That's not quite budget-priced, and it's comparable to some 4K webcams on the market (including Logitech's own Brio 4K), but the webcam market is still skewed due to the pandemic.
Design

The Logitech Brio 500 has a more modern design than its predecessors, which is saying a lot given that the predecessors are between 5 and 10 years old. The Brio 500 is housed in a broad, cylinder-shaped plastic chassis that is available in three colours: graphite, off-white, and rose. The webcam is carbon neutral, and the chassis is made of recycled plastic (68% for graphite, 54% for off-white and rose).
It's not the most stylish or compact webcam (it's larger than the C920s, C930e, and Brio 4K), but it's low-profile and lightweight (2.8oz without the stand), so I have no complaints. It's not a particularly inventive design, but it does (finally) include a built-in privacy shutter that slides upward to reveal the camera when the right end-cap is twisted.
Because the Brio 500 comes with a 5-foot non-detachable USB-C cable, you'll need to connect it to a USB-C port or find a USB-C to USB-A adapter (not included). A magnetic monitor mount that clamps onto your monitor and includes an adjustable "foot" lined with microsuction tape is also included with the webcam.
Performance

My home office is extremely well lit, thanks to four monitors (three 27-inch and one 24-inch) and actual lighting (Elgato Ring Light, Elgato Key Light Air, Logitech Litra Glow), as well as an overhead lamp and a desk lamp. While most webcams would interpret this as overexposed, the Brio 500 did an excellent job of adjusting exposure as well as white balance to produce a nicely-lit, balanced image right out of the box.
The Brio 500's auto-white balance, which is almost always a struggle, impressed me the most. While the Brio 500 could use some fine-tuning, its auto-white balance and auto exposure are very impressive, particularly for a webcam that isn't $200 or $300.
RightLight 4, the most recent evolution of Logitech's RightLight technology is one of the features of the Brio 500 touts. It uses face-tracking and other factors to ensure the subject is evenly lit in less-than-ideal lighting situations.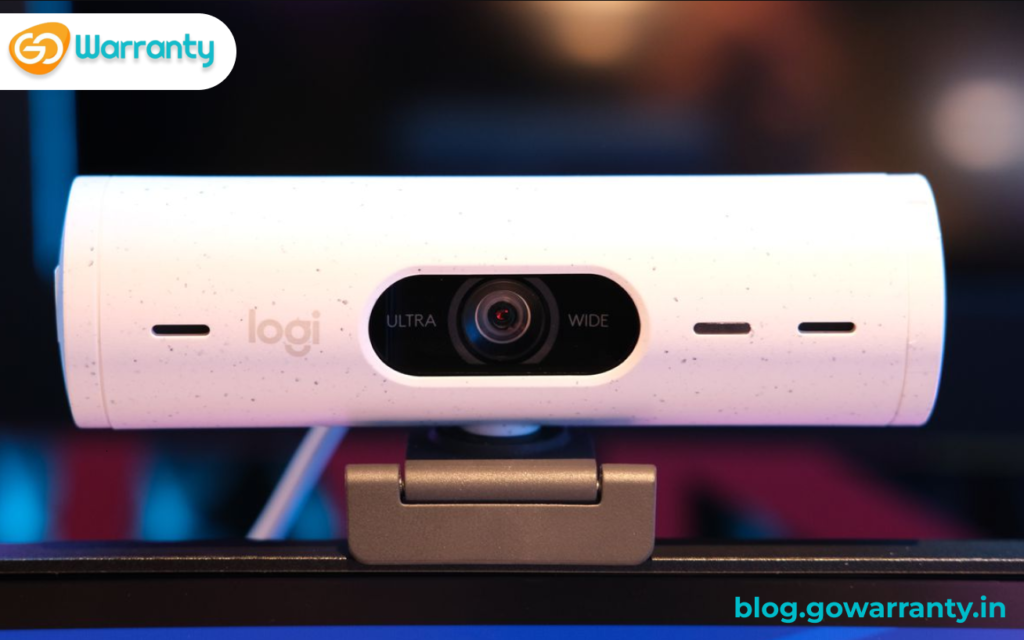 Low Light Performance

I turned off all of my lights as well as three of my monitors to test the Brio 500's low-light performance, leaving only one 27-inch monitor as my only light source. The Brio performed admirably — it's obvious that I'm sitting in a dark room, but you can see both me and my surroundings. This is most likely due to RightLight 4, once again.
Also, while the Brio 500 had to crank up the gain to compensate for the lack of light in this setting (as evidenced by the lack of detail in my facial features), it still managed to produce a decent-looking overall image. The low-light image on the Brio 4K is similar to that on the Brio 500, but it has less detail and a grainier texture.
Overexposed Performance

I turned off all of the lights in front of me, along with three of my four monitors, to test the Brio 500's performance in an overexposed setting, while leaving my background lights and one 27-inch monitor on. The Brio 500 did a fantastic job of keeping me well-lit, though my background is still noticeably over-exposed.
Microphone
The Brio 500 has dual microphones built in with beamforming noise-reducing technology to pick up your voice even if you move around in front of the camera. While most webcam mics are…okay, the Brio 500's mics aren't bad — they picked up my voice easily, even from a few feet away, as long as I was facing the webcam.
Software and Features

Logitech's Logi Tune software, which is Logitech's… non-creator webcam software for newer peripherals, I guess, is compatible with the Logitech Brio 500. (Logitech has a lot of different peripheral apps). It can be used to update the firmware of the Brio 500, enable features such as "RightSight" (AI auto-framing, still in beta) and "Show Mode" (makes things on your desk more readable/visible), and change the field of view. Logi Tune is also intended to be a productivity app, and it integrates with calendars as well as video conferencing apps to help you (sort of) organise your schedule.
Logi Tune also includes an image adjustments section, which includes toggles for autofocus, auto-exposure, auto-white balance, and HDR, as well as sliders for brightness, contrast, saturation, and sharpness. When you disable autofocus, auto exposure, or autowhite balance, manual sliders appear. Logi Tune isn't the most precise or detailed webcam app — it provides slightly more control than Logitech's Camera Settings app — but I still miss Logitech's old Webcam Software.
Verdict

The Logitech Brio 500 is a pretty impressive webcam that not only keeps you evenly lit (arguably too well), but also manages to make you look…really good in less-than-ideal settings. What more could you want? It has a cute, lightweight, carbon-neutral design, an easy-to-use built-in privacy shutter, and a microphone that doesn't make you sound like you're talking over a walkie-talkie in an underwater tunnel. Perhaps improved peripheral software and a lower price point.