The HP Z2 Tower G9 is the company's next generation of driven by performance desktop workstations, with a variety of configurations and customizability to meet almost any requirement. It supports full-sized AMD and NVIDIA RTX video cards, as well as 12th-generation Intel "Alder Lake" Core K-series processors, making it an excellent choice for those who have enough room in their workspace for a powerful mid-sized tower rig.
HP Z2 Tower G9, like its predecessor, is aimed at business and professional users in the video editing, rendering, and scientific simulation fields, as well as users willing to open their wallets a little to build a powerful and reliable computer with some top-of-the-line hardware and features.
Overview
The Z2 Tower G9 is the direct successor to the Z2 Tower G8 and significantly improves on it. The transition to 12-generation processors is most likely the most significant change. Users can equip the G9 with anything from a low-end i3-12100 (3.3 GHz, up to 4.3 GHz w/Boost, 12 MB cache, 4 core) to a high-end i9-12900K processor (3.2 GHz, up to 5.2 GHz w/Boost, 30 MB cache, 16 core, 125W). It also has eight other options in between, ensuring that you can find the best price/performance ratio for your budget.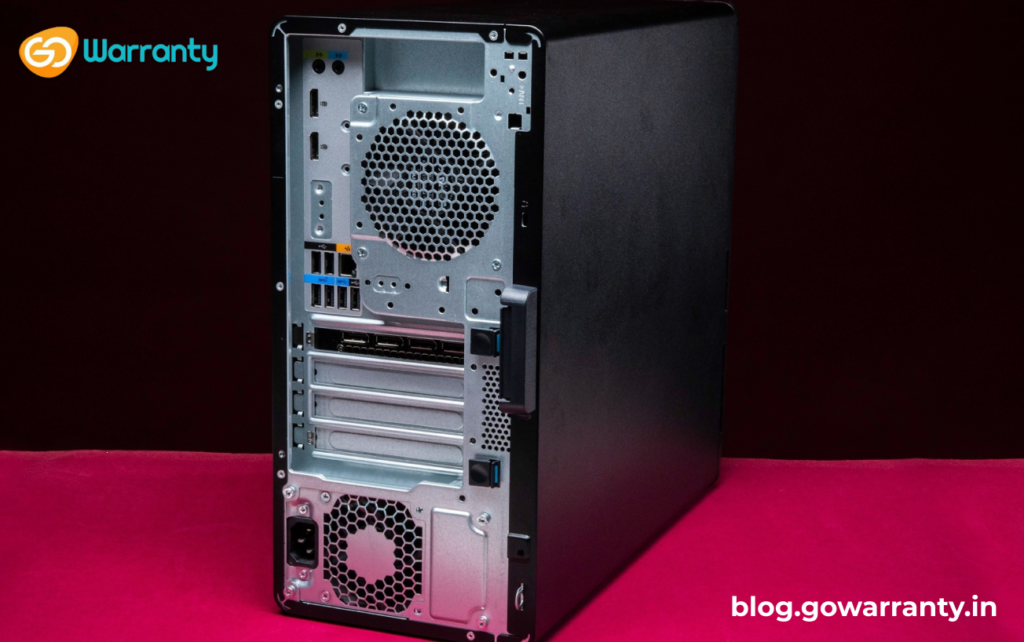 RAM is another significant improvement, as the G9 now uses DDR5 (the G8 used DDR4). While users can max out their rig with 128GB (4 x 32 GB) 4800 hz UDIMM, those on a tighter budget (or who don't need as much for their use case) can go as low as 8GB. DDR5 is a significant improvement over DDR4, as it has a much faster base speed (by 50%), is more energy efficient, and supports more memory modules. This implies the possibility of a much more power-efficient and performance-driven Z2 Tower series.
HP Anyware
The HP Z2 Tower G9, like all Z systems, supports HP Anyware (previously known as ZCentral Remote Boost). Without the need for a VPN, this free remote access and collaboration application provides secure access to digital workspaces. Though the complexity of setting up and using HP Anyware varies depending on the use case, the service is specifically designed to be simple to set up and use.  HP Anyware is essentially a cloud-based service that allows users to access their software, data, and resources from virtually any device (with an internet connection), from anywhere, and at any time.
Design and BuildAs the product name suggests, the new HP Z2 G9 has a tower form factor, measuring 14 x 6.7 x 15.2 inches and weighing around 16 lbs (though this will increase as you add bigger and better components). It appears to be identical to the previous-generation G8 model, which we found to be a well-built system (as with all Z series workstations).
Despite this, the front panel contains four USB-C 3.2 (10Gps) ports, one of which lets you charge up to 5V/2.1A, a power button, an optional SD card reader, an audio jack, and the Slim ODD and external 2.5″ drive bays. The ventilation grill is located on the bottom half of the front panel.
The audio line-in/out jacks, dual DisplayPort 1.4 ports, the flex I/O module (connectors will vary depending on your build),  the RJ-45 network port, six USB-A ports (2x 480Mbps, 2x 10Gbps, 1x 5Gbps), the PCIe expansion slots, system fan, and power connector are all located on the back side.
Next to the processor are four UDIMM slots; the Z2 G9 Tower, like the previous generation, supports up to 128GB of memory with nECC options. Our Core-based unit includes two 32GB DDR5-4800 nECC modules for a total of 64GB.
Performance
This configuration is nearly identical to the SSF version we previously reviewed, indicating that it is a well-balanced configuration suitable for most design work. It, like the Z2 SSF G9, is equipped with a Core i7-12700K processor, which runs cooler than the Core i9 variant.
The K-series chip is commonly referred as much better for long-running tasks that continuously stress the CPU due to its higher power limit. As a result, longer sustained higher clocks will be possible. Performance for any other tasks or benchmarks will be comparable to non-K series CPUs.
In general, the K-series provides high levels of performance for demanding workloads, with fast clock speeds, multiple cores, as well as support for advanced technologies like Hyper-Threading and Turbo Boost. This makes them ideal for tasks requiring a high level of processing power, such as gaming, video editing, and 3D rendering.
SPECviewperf 2020
The SPECviewperf 2020 benchmark is the global standard for assessing the graphics performance of professional applications that use the OpenGL and Direct X application programming user interfaces. Viewsets (or benchmarks) represent graphics content and behaviour from actual applications without requiring the applications to be installed. Viewsets are available for 3D Max, CATIA, Creo, Medical,  Energy, Maya, Siemens NX, and Solidworks.
Verdict
HP's Z2 Tower G9 is yet another excellent addition to the company's extensive workstation portfolio, providing users with all the performance, expansion, as well as configurability potential required for the majority of design use cases. Since it can be outfitted with powerful processors, high-end graphics cards, and plenty of memory and storage, HP's new workstation is designed to handle demanding workloads such as 3D rendering, video editing, and scientific simulations. This enables complex tasks to be completed quickly and smoothly. Furthermore, because the G9 is a mid-tower, it can support more powerful professional GPUs (up to the 24GB NVIDIA RTX A5000) as well as higher wattage power supplies (350W to 700W) than its SFF counterpart.
In any case, our review unit came with a 12th-generation Intel "Alder Lake" processor, an Nvidia RTX A4000 GPU, 64GB of fast DDR5 RAM, and a 1TB PCIe Gen4 SSD. Overall, it performed admirably throughout our battery of tests, and it marked a significant improvement over the previous generation system.
Along with this solid performance, the Z2 Tower G9 includes a number of business-critical features such as hardware-level encryption and remote management/access tools (HP Anyware), the latter of which allows remote teams to collaborate from any location and allows IT administrators to maintain and update the workstation.