With its annual action camera update this year, GoPro will reach the tenth generation. While the Hero10 Black ($399 with a one-year GoPro subscription) is a more evolutionary update than the revolutionary Hero9, it's a better camera as a result. Because the form factor remains the same, the Hero10 is compatible with Hero9 accessories. More importantly, the video engine has been updated to support 5.3K60 and 4K120 capture, with exceptional stabilisation. Its slim design and wide lens make it a popular choice for POV action shots. It also functions well for live streaming and as a webcam. Despite being more expensive than the previous model, it is the best GoPro yet and our Editors' Choice for action cameras.
Based on the Hero9 design
The Hero9, released last year, was the first significant update to the line's physical design since the Hero5. The slightly larger frame, colour front-facing display, and Mod accessory support remain, with some welcome refinements. On the outside, the front-facing display has a higher frame rate, allowing for a more accurate preview of your footage, and the touch screen works flawlessly. (A firmware update from GoPro corrected the Hero9's initially erratic touch interface.)
While the changes to the removable lens cover are not visible, it now has a fluorine coating to slick away water and promises to be more scratch resistant. It's detachable, so if you drag it across asphalt, you can replace it. It also works with the ultra-wide angle Max Lens Mod, a $100 add-on that expands the camera's field of view.
Inside, there's a new image sensor and processor that doubles the Hero9's slow-motion capabilities to 240fps at 1080p, 120fps at 4K, and 60fps at 5.3K. The GP2 processor enables higher frame rates and allows for more intelligent noise reduction for better results in low-light conditions.
GoPro can go anywhere
The Hero10 is a very small camera, measuring 2.8 by 2.2 by 1.3 inches (HWD) and weighing only 5.4 ounces. Integrated mounting clips connect to a selfie stick, tripod, or mounting accessory. The series' small size, tough chassis, and 33-foot waterproof rating have made it a favourite for mounting to people, pets, and various vehicles.
The Hero10 is powered by the same 1,720mAh battery found in the Hero9. It can power the Hero10 for about 45 minutes of 5.3K60 video or an hour of 4K60 video here. However, overheating can be an issue with long-form recording. In room temperature conditions, the camera shuts down after about 25 minutes of 5.3K capture and 35 minutes of 4K60 capture.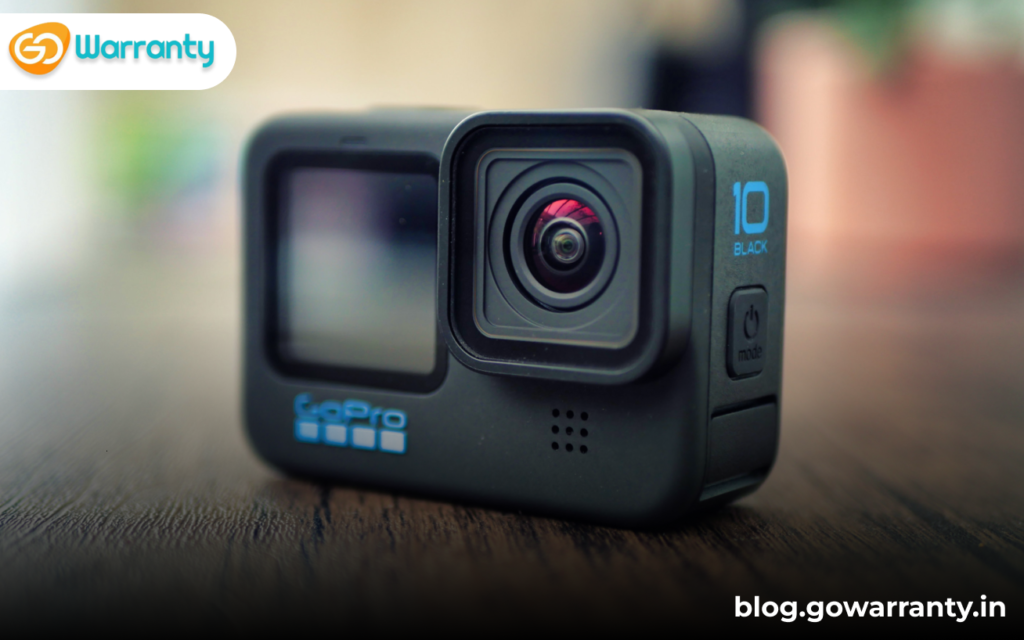 The Volta ($129.99) Bluetooth handle and tabletop tripod combo is also an option. It connects to the Hero10 via Bluetooth and USB-C wired connections, and it has Record and Power/Mode buttons on the handle. Its ability to convert to a tabletop tripod and have a standard 1/4-20 socket for mounting to a larger tripod or longer selfie stick is appealing. The Volta can be used in wet weather but is not submersible. The integrated USB-C cable isn't as appealing to us. It's a convenient way to use the Volta's internal battery to power the Hero10 for longer (up to four hours of 4K), but it's short and inconvenient. When your GoPro is charged, you don't need to use the cable. We wish GoPro had gone with a less obtrusive fixed cable or a removable cable instead.
A GoPro subscription with tight integration
GoPro's pricing strategy helps make the Hero10 Black a better value when purchased with a year of service. The camera and a year of service are both $399; otherwise, the camera is $499 on its own. It makes the bundle a no-brainer for all but the most averse to subscriptions. The service automatically renews at $49.99 per year, so make sure to cancel if you don't want to use it after the first year.
Video and Image
The Hero10 has a new sensor with much more pixels than the Hero9, but the jump from 5K to 5.3K capture isn't the main attraction here—the it's increase in frame rates. It can achieve 60fps at 5.3K and 120fps at 4K, which is twice as fast as the Hero9.
High frame rate video is preferable for capturing action because it captures motion more fluidly, resulting in more lifelike (but less filmic) visuals. You'll also be able to change the playback speed. You can get a four or five time slow-motion effect with 120fps footage. Fast motion is also an option—the Hero10 can be used for time-lapse video, and the stabilisation works well, so time-lapses with movement look great.
The camera is compatible with a wide range of resolutions and frame rates. Almost everything you'd expect is included; 5.3K at 24fps is missing at launch, but will be added in the November firmware update. You can adjust colour, sharpening, and other aspects of video in addition to frame rate and resolution.
The Hero10 can also take still pictures. In photo mode, you can capture 23MP images in JPG or Raw DNG format. The in-camera GPS adds location metadata to still images automatically. Individual photos can also be extracted from video; each frame of 5.3K video yields a 16MP photo with a 16:9 crop, and 4K video yields 8MP images.
Verdict
We're encouraged to see GoPro continue to advance its platform, even in the face of dwindling competition. The Hero10 Black increases the top resolution, doubles frame rates, and provides other welcome improvements. It's an improved version of last year's Hero9, with support for all of the same add-on accessories and a $50 price increase. All of this combines to make the Hero10 Black our Editors' Choice for action cameras.