The first analogy that comes to mind when you unbox the Oppo F21 Pro is the mint with a hole. It's as refreshing as Polo in many respects. Both physically and metaphorically. Oppo appears to be emphasizing a nifty little party trick dubbed the orbit ring around one of its camera lenses on the back of its new phone. It's one of its main selling points. The remainder of the package is also quite appealing to the eye. The phone is available in two separate colorways: sunset orange and cosmic black, which should satisfy Oppo's young target demographic across the board.
Today, you don't have to pay a lot of money to have a good-looking premium phone. Almost every company has perfected the skill of shaping plastic/glass/metal into something lovely and beautiful. At the same time, Apple's impact on smartphone design is as strong and constant now as it was yesterday. The recent burst of flat-edged phones on the market is no accident. That's not always a terrible thing. If it were, these phones would not be flying off the shelves, and businesses would simply stop making them.
Price
The F21 Pro is only available in one configuration: 8GB of RAM and 128GB of storage for Rs. 22,999. It includes a 4,500mAh battery that enables SuperVOOC rapid charging up to 33W. The F21 Pro 5G costs Rs. 26,999 and has the same storage and RAM.
Specifications
The specifications are also appealing.
Design and Display
The synthetic leather-based casing on the rear of the Oppo F21 Pro sunset orange variant is the first thing you notice. It has a matte appearance and, surprisingly, is not of poor quality. It provides a luxurious hand-touch sensation. The rails surrounding the edge are sturdy and promise to provide strong stability to the device's construction, as well as to withstand accidental falls and prevent internal components from harm.
The display also includes a Corning Glass 5 protection. Furthermore, the firm has pre-applied an additional layer of screen protectors. In addition, the retail package includes a soft transparent shell cover. The business has added extra protection to guarantee that the F21 Pro lasts longer with fewer scratches and also avoids physical damages after accidental falls.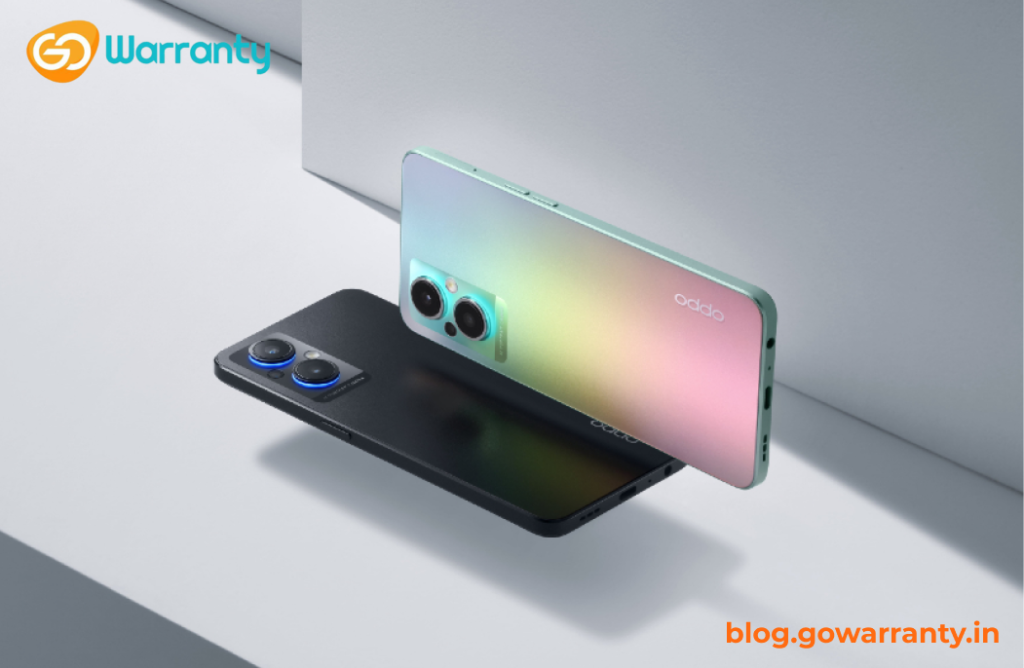 Oppo's latest phone has a 6.43-inch full HD+ (2400 1080p) AMOLED display with a refresh rate of 90Hz and a maximum touch sampling rate of 180Hz. It also has a peak brightness of up to 600 nits. This is only enough to read stuff outside in the shade. However, it has to be seen whether it can provide a satisfactory reading experience in direct sunshine.
In addition, the tablet boasts an in-display fingerprint sensor, which has performed admirably thus far. It should be mentioned that the gadget has three dedicated slots, two for nano-SIM cards and one for microSD cards.
Camera
On the back of the new phone is a triple-camera module: a primary 64MP (f/1.7) camera, a 2MP 30x microscope camera (f/3.3), and a 2MP (f/2.4) macro camera with LED light. On the front, it has 32MP (with a 1/2.74-inch Sony IMX709 sensor and f/2.4 aperture).
Oppo F21 Pro early this morning piqued my interest in how well it can perform in a variety of lighting conditions. In the first test, taken in natural sunshine, the camera did an excellent job of catching a significant amount of detail, and the saturation of the flowers' colors is not overpowering. So far, everything is going well.
I'm perplexed by the option of back cameras. The main 64-megapixel camera appears to be adequate, but there is no ultra-wide camera, which is really disappointing. In fact, even the 5G variant of this phone lacks one. The F21 Pro also has a 2-megapixel depth sensor and a 2-megapixel camera with a "microlens." The latter, like the camera on the Realme GT 2 Pro, allows you to snap extreme close-up images with the camera app's 'Microscope' shooting mode.
The 'Orbit light,' which is located around the edge of one of the F21 Pro's rear camera lenses rather than the full module, is another feature copied from the Oppo Reno 7 Pro 5G. It's also white instead of blue. You can't adjust the color, but you can control when it lights up, such as while charging or when an app alerts you.
Processor Configuration
As previously stated, the generic Oppo F21 Pro is equipped with a Qualcomm Snapdragon 680 CPU, an Adreno 610 GPU, Android 12-based ColorOS 12.1, 8GB RAM, and 128GB storage (expandable via microSD card). It is worth noting that the corporation only offers this type in India. Furthermore, the tablet enables RAM expansion, which lets users increase the physical memory by another 5GB, bringing the device with 8GB of RAM up to 13GB of extra storage is available.
This will drastically speed up day-to-day actions like launching applications, switching apps, and controlling the camera, among other things. So far, the Oppo F21 Pro has performed admirably. I'm curious to see how it will do when playing graphics-intensive games like Asphalt 9: Legends.
Battery
The gadget has a 4,500mAh battery, which is more than adequate to power the phone for a whole day under typical conditions. In addition, the firm is providing a 33W SuperVooc charger, which, according to the company, can charge the phone from 0% to 100% in one hour. We'll see whether this actually works. The smartphone performed smoothly during our initial testing. There was no visible lag and the gaming experience was also fine.
Verdict
Oppo F21 Pro has all-around features and appears to be a promising mid-range smartphone. The smartphone, is powered by an octa-core CPU. Also, comes with SuperVOOC rapid charging and the most recent version of the Android operating system. However, in order to determine if it is a good buy or not, you must first read our comprehensive evaluation. There are many nice smartphones under Rs. 25,000 are available in India right now. Oppo's F21 Pro is up against the fierce competition. It will be fascinating to see if the company's emphasis on design will help this phone stand out despite its dubious hardware choices.