Bose's entire brand and reputation is based on noise cancellation technology. The company has been in the ANC game for decades, so I shouldn't have been surprised by how well the new Bose QuietComfort Earbuds II outperform the competition. But after several days of testing, that's exactly where I'm at.
Until now, the original QuietComfort Earbuds, Sony's WF-1000XM4, and Apple's AirPods Pro were all very similar and all very good. But Bose's new $299 earbuds have significantly raised the bar. These are as good as or better than over-ear noise-cancelling headphones in a variety of everyday situations, and they're obviously far more compact and portable.
The QuietComfort Earbuds II still lack some increasingly important features, such as multipoint connectivity and wireless charging. These oversights can make justifying the high price more difficult. However, the sound quality is excellent, and in addition to class-leading noise cancellation, Bose has managed to match Apple's AirPods Pro's natural, lifelike transparency mode.
Design
When you open the box, you'll notice how much smaller these earbuds are than the previous generation. They're 30% smaller in volume and wear closer to your ears and head than before. The charging case has also been reduced by 40%. It's more pocketable, but it's still the kind of size that makes me wonder why Bose didn't include wireless charging.
Fitting the Bose QuietComfort Earbuds II into your ears feels very different from previous Bose buds. StayHear's signature winged ear tips have been replaced with a two-piece system. There are three sizes of ear tips included (S, M, L) as well as three sets of stability bands which use your ear concha to keep the earbuds securely in place. When mixing tips and stability bands, there are nine total combinations, and Bose, like other earbud manufacturers, notes that your left and right ears may be different enough to warrant different configurations in each. I ended up using large ear tips with a medium-sized stability band in one ear and a large stability band in the other.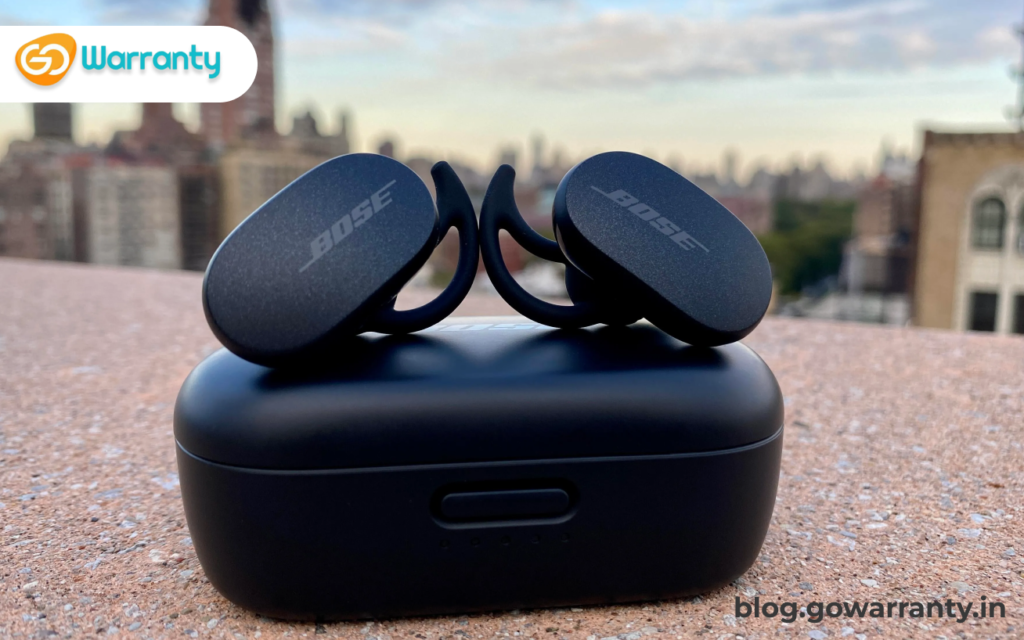 Bose's goal with this change was to eliminate fatigue and discomfort while also making the new earbuds fit a wider range of ear shapes and sizes, there's even a separate fit kit you could indeed order from customer support with XS and XL attachments if none of the bundled options work. Some fans of the one-piece StayHear tips have expressed concern that the new approach will not work as well for them, but I wouldn't be concerned. It is more difficult to experiment with two pieces in each ear, but it is a worthwhile use of those extra minutes to find the best fit.
Sound
You'll hear a short tone in each ear when you start a listening session by removing the earbuds from their case and inserting them into your ears. Bose has used the same orchestral thwomp sound effect in its headphones and earbuds for years. But it now has a new and very deliberate purpose: CustomTune. Bose analyses the acoustic properties of your ear canal using the brief tone. The QuietComfort Earbuds II then adjusted the noise cancellation and audio profile based on the data received. This occurs once per use of the earbuds.
The lack of multipoint is unfortunate, but the noise cancellation is unbeatable.
However, the QuietComfort Earbuds II are not without flaws. They lack Bluetooth multipoint, a feature that allows you to pair with two audio sources at the same time for easier multitasking. Google just added multipoint to the Pixel Buds Pro, but Jabra has had it for years. Bose's own headphones have multipoint functionality, but the company claims it was unable to bring that convenience to these earbuds while maintaining high performance.
The QC Earbuds II don't come with many extras for their high price. The Bose Music app for Android and iOS allows you to configure four different "modes," each of which blends the levels of noise cancellation and transparency to your liking. Basic EQ adjustments can also be made to the bass, mids, and treble. The touch-and-hold gesture on each earbud is also customizable: it can toggle between ANC modes or activate a voice assistant. When you remove one of the earbuds, the audio is automatically paused, and transparency mode is activated. If loud noises are detected while the earbuds are in transparency mode, a "ActiveSense" setting will quickly reenable noise cancellation.
That's where the software tricks stop. There's no fancy head-tracking spatial audio like with AirPods or Galaxy Buds. There are no location-based sound profiles like Sony's earbuds. Bose only supports the most basic AAC and SBC codecs. There's something to be said for concentrating on what matters, but don't expect many extras.
Battery
The QC Earbuds II's battery life is estimated to be six hours with ANC turned on, with the case holding three additional charges for a total of 24 hours. Water resistance is rated IPX4 on the buds. All of these figures are par for the course in 2022. So far, mic performance in voice calls has been satisfactory.
Verdict
The Bose QuietComfort Earbuds II are the best noise-cancelling earbuds available. Bose has successfully resisted Sony, Apple, Google, and Samsung while making significant progress with ANC in this form factor. They're not cheap, and I'm not sure how long the QC Earbuds II will stay at the top; Apple is about to release its second-generation AirPods Pro, which promise noise-cancelling advancements of their own. However, these sound fantastic, fit comfortably, and do an unrivalled job of isolating the outside world, particularly voices. Once again, reputation is vindicated.