We thoroughly researched by keeping in mind laptop performance, keyboard typing experience, battery life, display panel, pricing, and portability. So, here is the fine-tuned list of the best laptops in 2020 that you can buy.
1. HP ProBook 450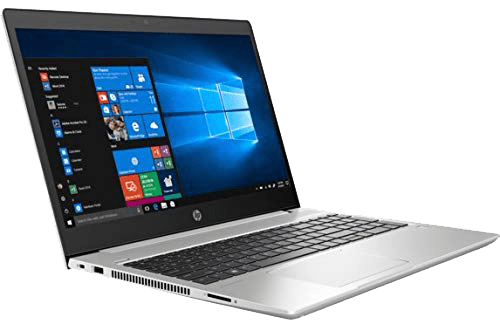 It is probably the most suitable laptop for work as well as blogging because it is inexpensive. As bloggers write a lot of articles, it's indeed the primary task while running a blog. So, one needs a comfortable keyboard that has a convenient key travel and feels premium while typing. This machine comes with a standard full-sized keyboard with perfect key-to-key space and LED-back-lit.
HP ProBook features the latest 8th generation Intel Core i7-8250U Quad-Core processor with 1.8GHz~4.6GHz (peak), 8 GB DDR4 RAM, 128GB SSD, and Intel UHD Graphics 620. It has 15.6″ SVA anti-glare LED display panel with 1920×1080 screen resolution to make your photo or video editing task easier. Compared to many other sleek designed blogging laptops, it also includes ports like a Card reader, HDMI, VGA, USB Type-C 3.1, USB Type-C Gen 1, and LAN.
Its plastic finished back cover just feels awesome and overall chassis looks just beautiful. Moreover, you get an extended mouse pad space to utilize it more efficiently. Using a small mouse pad seems irritating and frustrating because of small and insufficient active space, but you'll never face the same issue with the ProBook laptop. They are variations available in i5 and i7 with different storage options like 256 GB, 500 GB, and 1 TB
2. Microsoft Surface Laptop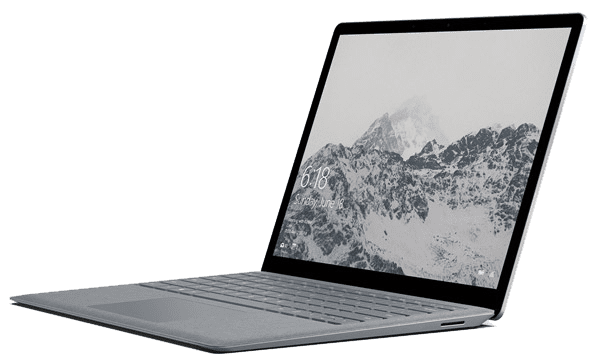 Microsoft Surface is not a cheap option, but if you can't sacrifice robust performance and exceptional speed, then it's the best computer for office work and probably the perfect machine that money can buy for you. The recently launched Microsoft first surface laptop comes in 4 colour variants. The back cover is matt finished with the Microsoft logo right in the centre which looks impressive.
Apart from its killer design and premium look, it contains an Intel 7th Gen. Core i7 3.1GHz processors, 1TB of storage, 16 GB memory, Windows 10 S and an incredible 14.5 hours of multimedia playback. Of course, Windows 10 S pre-installed with MS Office to take your experience to the next level. You can also downgrade to Windows 10 within a few clicks.
Microsoft Surface laptop is one of the ultra thinnest and lightweight laptops with longer battery life in the market. Its keyboard is covered by Alcantara fabric which feels awesome while typing. The 13.5″ PixelSense display also has a touch screen feature which responds quickly along with stunning looking graphics.
3. DELL Inspiron 5000 – Most Affordable Device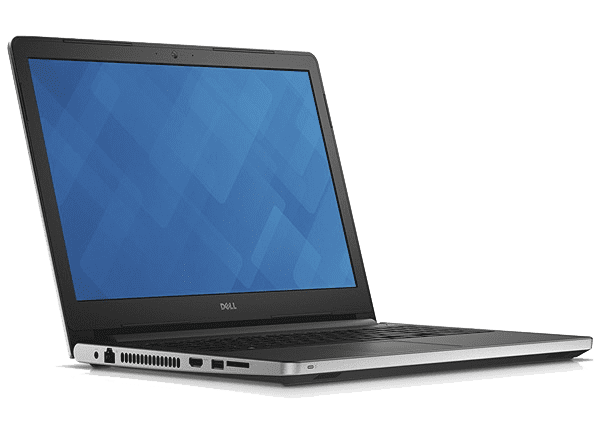 while the above two laptop options are expensive, the Dell Inspiron is the cheapest and indeed most affordable laptop which comes with good configuration.
Dell Inspiron 5000 15.6″ comes with 6th Generation Intel Core i3-6100U processor with 3MB cache, 2.3 GHz speed, 6 GB Dual Channel DDR3L RAM (1600 MHz), and whopping 1 TB hard drive. You can expand the RAM up to 16 Gig as per your requirement. Concerning about GPU, it has Intel HD Graphics 520 processor which can be used for light to medium level graphic designing work.
Even in the lowest price range, you will get a premium looking laptop with standard size keyboard including enlarged mouse trackpad. It consists of high-speed Wifi 802.11ac chip, HDMI, BlueHost, 720P webcam, USB 3.0 ports, and DVD drive along with pre-installed Windows 10 Home edition. Furthermore, it delivers up to 6 hours of battery life which depends on the usage. For e.g. multimedia consumes more power than simple tasks like writing or reading.
Now, the question is, is it worth buying? And I would say a big YES. It can handle most of your work like writing, watching Youtube videos, reading articles, multitasking, and Photoshop. But you cannot play heavy-duty games or use extreme editing softwares as it doesn't have a dedicated graphics card. So, if you have a tight budget and decide to buy a laptop then you must check this one out.
Planning to get a Laptop sometime this year
Get an extended warranty so you can focus on your work and your laptop keep delivering the best performance.
4. Apple MacBook Pro 13″ (MPXQ2LL/A)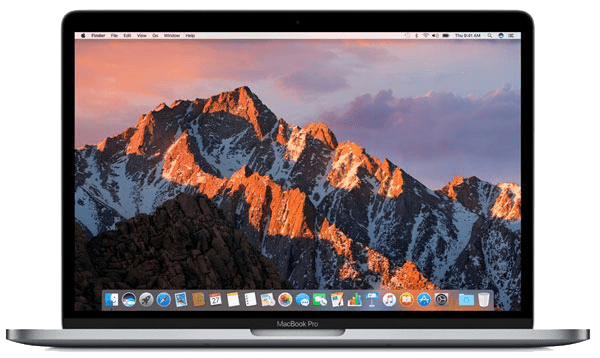 If money doesn't matter to you, then choose Apple MacBook Pro for its stunning Retina display, ultra-thin shape, and best typing keyboard. It is one model behind the latest MacBook Pro but costs you less money than the 16 inch MacBook Pro. Highly suitable for those whose first priority is editing videos and multitasking. The powerful Iris Plus graphics chip set, works amazingly to handle even heavy-duty editing softwares.
It comes with Intel Core i5 2.3GHz dual-core processor with Turbo Boost up to 3.6GHz and 8GB LPDDR3 2133MHz RAM which works flawlessly when dealing with multiple tasks simultaneously. You can research online with dozens of browser tabs open, can watch videos, utilize Adobe Illustrator, Photoshop, Lightroom, or GIMP with lag-free performance. Its killer hardware specification works like a charm under heavy loaded tasks. So, all of these features make it the ultimate laptop.
Regarding storage, you get 128 GB SSD drive to store your data with speed. However, there are different variants available for high storage capacity as well. It also helps in rendering data much faster than standard hard drives. The 13″ display panel comes with Retina 2560×1600 pixels resolution with LED-Lit technology. The base model is available in two colors; Space Gray and Silver with a maximum of 4.9 pound weight.
And finally, the whopping 9+ hours of battery life is quite enough to complete your daily jobs.
5. Acer Aspire R15 (360 Degree Convertible)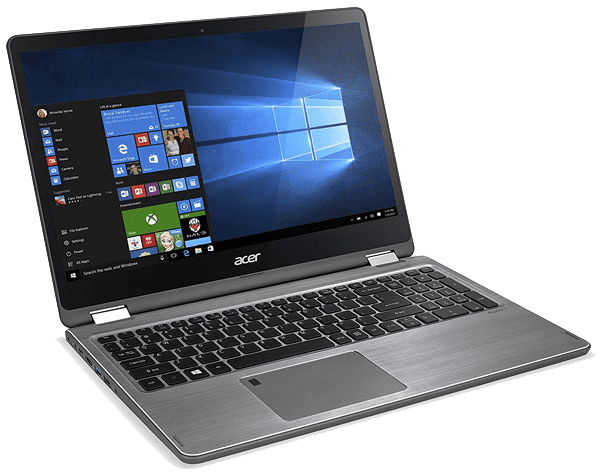 Acer Aspire R15 is a beast in the 7 best laptops in 2020 category. It has an artistic looking design along with the thinnest 15″ 360-degree convertible laptop which entices most of the users. Aspire R15 packed with Intel Core i7-7500U with up to 3.5GHz Dual-Core processor, DDR4 12 GB RAM, and amazingly fast 256 GB SSD hard drive. The standard full-size keyboard also has LED-backlit to help you write in low light as well.
You get pre-installed Windows 8 operating system, 360-degree flip and fold design, 3 USB ports, HDMI port, SD card slot, and Acer ExoAmp antenna technology for robust connectivity. Its onboard Intel GPU delivers full HD IPS display at 1920×1080 resolutions and also supports 10-point multitouch functionality.
Furthermore, for hardcore gaming and video editing, it's also equipped with an integrated Nvidia GeForce 940MX 2GB GDDR5 graphics card. This means no lagging during playing games or editing vlogging videos. It works seamlessly while you multi-task without slowing down the performance.
Content writers can use this laptop in 4 different modes; Display, Tent, Tablet, and Laptop mode. In a nutshell, if you're looking for a high-performance machine with an outstanding configuration which can handle all your blogging requirements, then Acer Aspire R15 is just for you. Moreover, its 4-cell lithium-polymer battery can run your laptop for 9 hours easily.
6. HP X360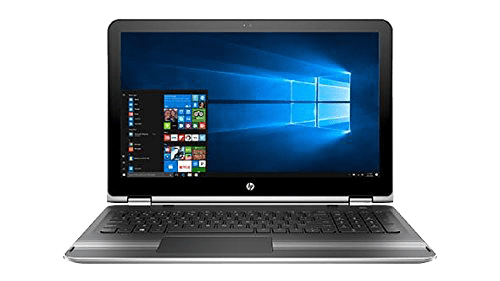 HP X360 is another great laptop as it consists of Full HD Touchscreen with the 2-in-1 convertible laptop. It can be used in two modes such as laptop or Tablet. You can work while lying on the bed or standing comfortably. It is slim and lightweight. Nevertheless, its performance is as great as it looks. The 15.6″ screen size provides 1920×1080 FHD IPS display along with the Edge-to-Edge touchscreen. The touch panel allows 10 points multi-touch feature as well.
HP X360 15.6 has nearly all features that you need to work smoothly. Whether it's heavy tasks like graphic and video editing or simple task (writing), it has it all. It includes 8GB of RAM and 3MB processor cache. Don't worry about slow browsing as users can open 25+ tabs and multiple browsers at the same time. Vloggers can work precisely while editing videos using heavy software like Adobe AfterEffect and Photoshop. It features the newest 7th generation Intel Core i5-7200U processor with Turbo Boost technology providing 2.50 GHz to 3.10 GHz cloaking speed.
Its storage capacity is 1TB HDD, 128GB m.2 SSD, and AMD Radeon 530 (2GB Dedicated Graphics card). It's simply the perfect laptop for vlogging, graphic designing, and video editing. Besides this, users can Livestream and do video calls via HD 720P Wide Vision webcam. Battery timing is good as well, 48 WHr – up to 8 hours battery life. Other features are B&O PLAY dual speakers, Headphone/microphone combo, Bluetooth 4.0, 2 x USB 3.0, 1 x USB 2.0, 1 x HDM and SD Card reader.
7. ASUS ZenBook UX330UA-AH54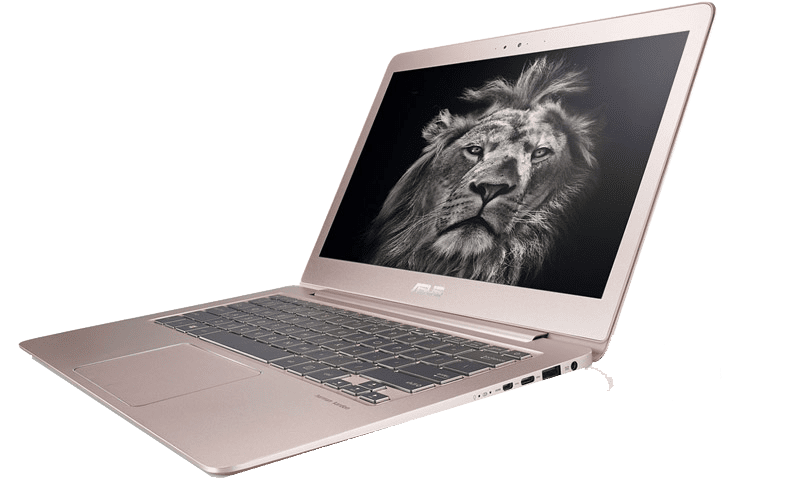 ASUS ZenBook is also the best choice for all tasks. It is a sleek, slim and lightweight laptop having 2.6 lbs aluminium body, best for comfortable portability. Multitasking and mainstream performance is not a big issue for this computer. Asus ZenBook comes with full HD display of 1920×1080 pixel resolution powered by Intel HD Graphics 620 processor which easily can handle editing software.
It provides fast data transfer speed with its super-fast 256GB SSD disk drive. With 8GM RAM and SSD drive, it is the best choice to get fast speed storage and memory. You can use multiple browsers and softwares at a time without experiencing drop in speed. ZenBook is packed with the latest 7th generation Core Intel i5-7200U 2.5 GHz Processor (Turbo to 3.1 GHz). Vloggers and video creators can take full advantage of the built-in HD 720p webcam.
You can utilize fingerprint scanner for one-touch Windows login to access your computer without entering the password. It also provides extensive connectivity with HDMI/D-SUB/USB Type C, 802.11a/c WiFi, and SD Card Reader.
For great music experience, the laptop comes with a Kardon Audio speaker. It also has a backlit keyboard, beneficial for working even in dim light. ASUS ZenBook has a battery timing of 10 hours and exceptional portability as it weighs 2.6-pound weight.
Now, the 8th generation variant ZenBook 14 UX433FA is also available with Intel Core i7 8565U processor, 16GB LPDDR3 Ram, 512GB PCIe SSD, backlit keyboard, and Windows 10 preinstalled.
Conclusion
These are our top choices and the 7 best laptops for 2020, based on our research and experience. I am using Core i7 laptop with 16 GB of RAM and spinning hard drive with 24 GB SSD to enhance performance. If you need a laptop for Photoshop, video editing, and other basiv requirements, then you must choose a machine that comes with a Core i5 processor, dedicated GPU, and at least 8 GB RAM for smooth operations.
Otherwise, you might face performance issues while multitasking or using editing softwares. Buy a laptop with the above mentioned specifications because replacing a laptop with a new one isn't that easy. It takes too much time to transfer data from an old machine to a new one. So, we recommend picking the best laptop which can be used for the next 4 to 5 years easily.